Clarke Energy is a company that specialises in providing power generation solutions and services across multiple industries. With that, we ensure that our customers are setup for success by providing quality ongoing technical support and service, with our comprehensive support system.
Technical Support Manager, Johnathan Chapman oversees this system, providing Clarke Energy customers an avenue for quick responses and real time updates from our highly trained, factory qualified team of over 25 technicians located across the South Pacific regions.
Providing OEM contracts with our customers to help support and maintain our products, we also are responsible for warranty and parts supply along with our user-friendly technical support system and remote monitoring capability to enable 24/7 online access to our team.
This support system gives us the means to respond and communicate the status of service progress immediately without the wait.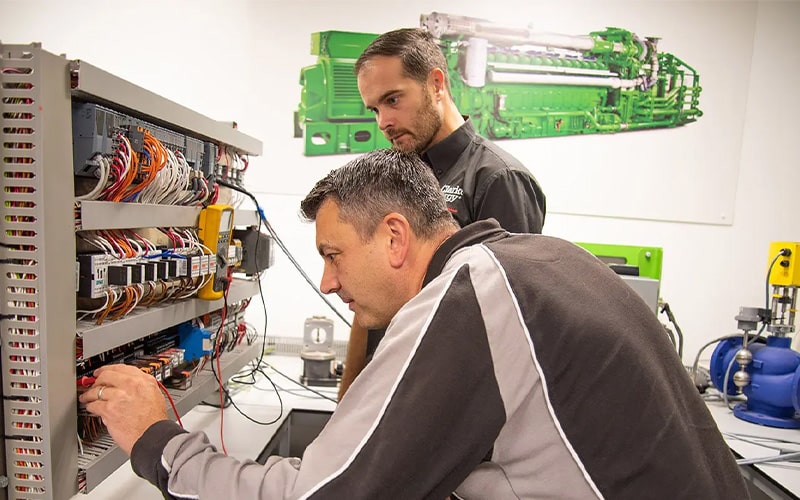 Our Technical Support team can be accessed easily through a link, from the Clarke Energy logo supplied on our customer information documents or via a QR code, to enable our customers to log a support request to be submitted easily online or from a mobile device. Our team also has an urgent out of hours support requests can be made by calling a 1300 hotline.
We have three technical support request types:
Technical issue
Connectivity (network assistance)
Request for documentation
When a support issue is logged, the complete technical support group is notified of the request submission and depending on the case type, the customer receives a phone call or email from the Clarke Energy team as soon as a team member is allocated to the case. Customers are able to check the status of their case and monitor the response times through this system. Our customers are then kept informed by email on the status of the case until it is closed.
We also provide high-level technical training to help run your equipment correctly and efficiently over time. This specialised training offers customer-orientated programs for beginners and experienced service technicians.
Benefits of technical training:
Easier and more efficient operation of equipment
Greater safety for operators
Technical expertise for the operation and maintenance
Knowledge-sharing of technology
Practical training modules, working directly on the engines
Customised training modules to meet your individual requirements and specific engine configurations
Multiple languages including English, German, Italian and Spanish (interpreters for other languages available on request)
Jonathon advised "It's just another way we at Clarke Energy are looking to provide a level of support that ensures accountability and transparency to our customer base."
Learn more about our servicing ethos here.