New Standard for Drilling Rig Power Generation
The mobileFLEX portfolio is the latest advancement from GE to deliver lower-cost, lower-emission power to drill rigs, artificial lift enhanced oil recovery and oilfield equipment. An all-gas alternative to diesel units, mobileFLEX is an EPA mobile-certified solution that provides a cost advantage to energy producers and operational advantage to drilling contractors by utilising field gases. For oilfield power applications, the mobileFLEX engine portfolio is a superior power solution for drill rigs, liquids reinjection, lift pumps, and temporary accommodations.
Benefits
Cost saving- provides power like a diesel without the cost of diesel fuel
Flexibility – reliable, proven fuel flexibility across a wide British thermal unit (Btu) range

Features
Operates on Liquefied natural gas (LNG), compressed natural gas (CNG) HD-5 propane and high-Btu field gases with minimal gas treatment
Exceptional fuel tolerance : Operation on natural gases 950-1,650 Btu/ft3 higher heating value (HHV) without component changes and on propane gas 2600 Btu/ft3 without component changes
Diesel-like load acceptance – Upto 65% load steps and 100% load-shed
Emission control with low cost 3 way catalyst
The mobile-certified VHP multi-fuel engine set the new standard for reliable, efficient drill rig power generation. Delivering up to 95 percent lower emissions and 80 percent lower fuel costs than diesel with similar transient load response, this engine represents a game-changing, fuel-flexible solution for the drilling industry and artificial lift industry. The VHP rich burn solution is available with power outputs of 1,000 and 1,200 kW @ 1,200 rpm.
Jenbacher gas engine technology is an ideal transition from diesel power.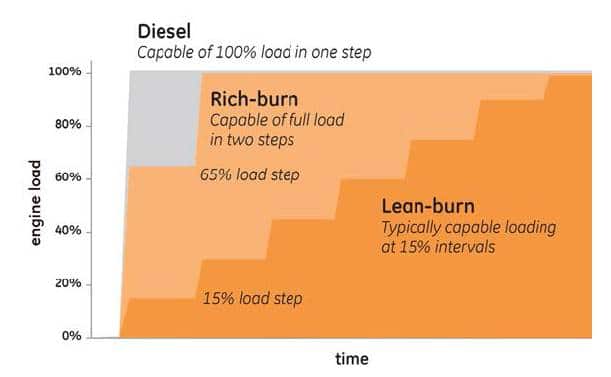 No load banks
Rich-burn engines deliever diesel-like load acceptance
Up to 65% load steps and 100% load shed
Exceptional fuel tolerance with more power on high-Btu field gases
Emission control with low-cost three-way catalyst
Eliminates dependence on diesel fuel
Oilfield Power Applications
Drill rig
Lift pumps
Liquids reinjection
Temporary accommodations
| | |
| --- | --- |
| | Find the latest information and product fact sheets on INNIO's Waukesha mobileFLEX engine here |