Clarke Energy can provide the highest levels of customer service and peace-of-mind along with comprehensive long-term maintenance agreements. A maintenance agreement creates a relationship with us for the life of your equipment. The majority of the Jenbacher gas engines we supply are serviced through a maintenance agreement. In creating each agreement, we work directly with you, defining the best and most suitable solution for your service needs. A maintenance agreement typically consists of different components of our service product portfolio and accompany the lifecycle of your gas engine.
Benefits
A maintenance agreement will provide you with various advantages:
Maximise return on your investment
More predictable operating costs and risk mitigation over the life of your equipment.
Optimum customer care through our dedicated personnel, backed by the global Jenbacher service network and remote services.
Integrated outage management: The outage schedule will be aligned with your workload, while integrating planning will optimise availability of parts, material and service technicians.
Guaranteed availability, subject to engines being sold and installed by Clarke Energy.
Agreements with flexible scope customised to your specific needs.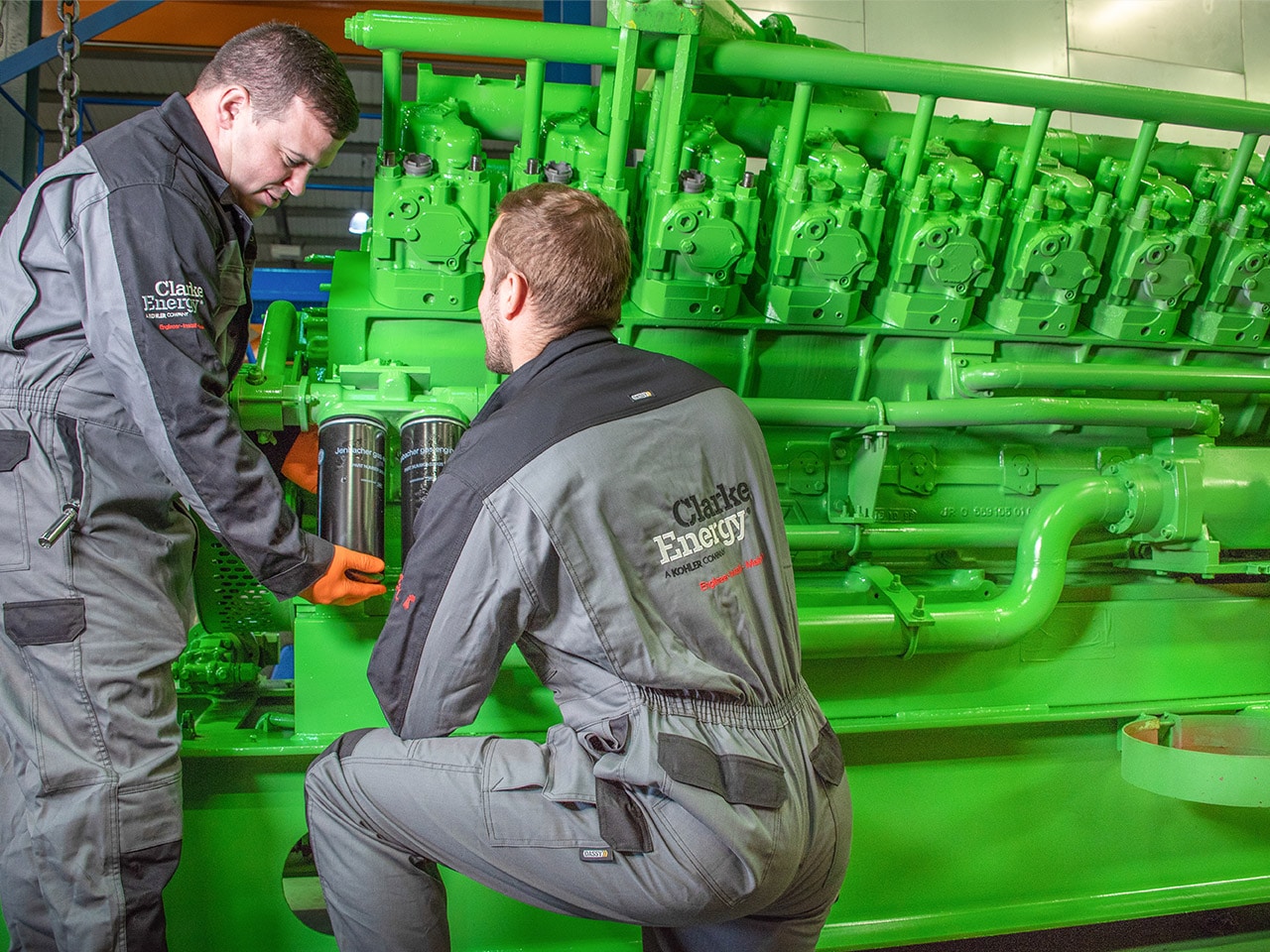 Scope of Service Agreement
Maintenance Agreement
Maintenance agreements provide high value while reducing risk for your plant. These agreements shall allow you to focus on your core business. Clarke Energy's Jenbacher maintenance agreement usually contains:
Scheduled (preventive) maintenance according to the maintenance needs of your engine, including all necessary spare parts. Clarke Energy only supplies quality original Jenbacher spares and not third-party imitations.
Required unscheduled repairs and corrective maintenance for the duration of the contract, including all necessary spare parts.
Minor and major overhauls.
Remote services to ensure timely and accurate technical support (please contact your local Clarke Energy office to understand what is available in your country).
Availability guarantees (subject to engine being sold, installed and commissioned by Clarke Energy).
Consumables needed for scheduled maintenance (e.g. spark plugs or filters).
Supply of oil / lubricants.
Material Stream Agreements (MSA)
Material Stream Agreements are ideal if your staff can conduct the maintenance work themselves. These agreements provide delivery of original Jenbacher gas engines spare parts for preventive maintenance, based on the operating hours of your engine. With an MSA you benefit from:
Favourable prices and price security for Jenbacher original parts for the duration of the contract.
The Clarke Energy team takes care of planning and preferential dispatching for your spare parts needs.
The latest available technology and OEM approved parts, delivered at the time needed.
Exchange engines at pre-defined rates.
Site-based Operation and Maintenance
In some localities it may be beneficial for the end customer to have Clarke Energy staff based permanently on site with a full operation and maintenance contract. This may take place where the number of engines are sufficient to warrant their permanent presence, or where the site is particularly remote. Site-based maintenance operatives can help ensure smooth operation of the installation and offers you the advantage of all services supplied from one single source – our experienced and well-trained Clarke Energy technicians.
Business Ethos – Service at the heart
Clarke Energy is committed to delivering the highest levels of after-sales support to our customers. Our view is the highest levels of equipment availability supports the highest levels of return on investment for our customers.
We achieve this by having accountable local service teams, in country OEM-approved spare parts, remote monitoring and diagnostics and local commissioning teams.
Speak to your local Clarke Energy office to learn more about our maintenance agreements.
Contact us >