TPI Biogas Upgrading Plants

Clarke Energy is an authorised distributor and service provider for Techno Project Industriale's (TPI's) biogas upgrading plants. These include both membrane and selective solvent-based washing systems.
With Clarke Energy's engineering, procurement, construction and aftersales support capabilities we are able to offer full biogas upgrading solutions to our customers along with integration to their sites.
Biogas upgrading is the process of the separation of methane from the carbon dioxide and other gases from biogas. The concentrated biogas – close to 100% methane is called 'biomethane' or 'renewable natural gas' (RNG). This gas can be used as a vehicle fuel or injected into the gas distribution network.
Biogas upgrading technology can be applied to anaerobic digesters, wastewater treatment facilities and landfill sites. Biogas upgrading can be used as a substitute technology to gas engines or can be used in parallel where power and heat are required on site.
Techno Project Industriale's (TPI's) Products
TPI provides a comprehensive range of products that cover each stage of the biogas upgrading process. Biogas upgrading plants with membranes or selective solvent along with associated equipment.
Biogas-Upgrading Membrane Plants
TPI is an authorised supplier of Evonik's Sepuran ® Ultra-high selectivity polymeric refinement membranes (HPSM). TPI's combines this technology with well-engineered balance of plant including quality containers and control systems.
The HPSM plants developed and industrialised by TPI make it possible to obtain high levels of purity with recovery efficiency in excess of 99%, thus making the pure biomethane suitable for distribution in national gas networks or for use as a vehicle fuel.

Figure 1: Biogas upgrading process – purification of biomethane

Figure 2: Permeability of different gases through a biogas upgrading plant membrane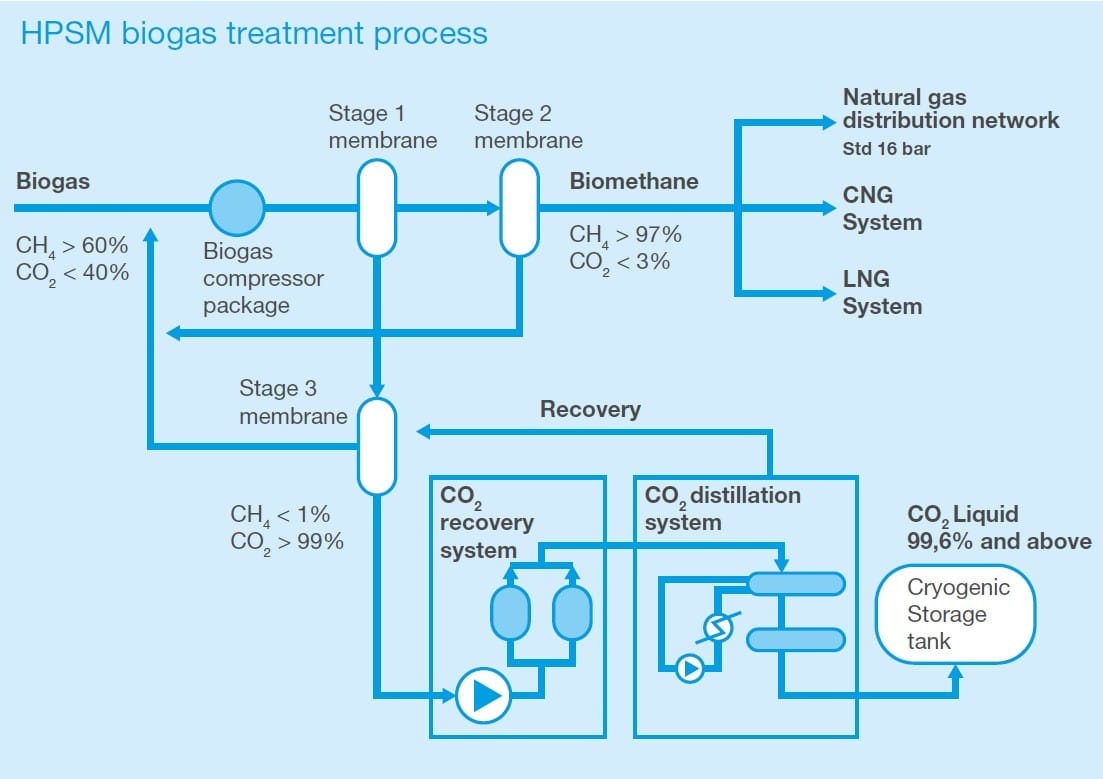 Figure 3: TPI's membrane-based biogas upgrading plant treatment process diagram
Biogas-Upgrading Membrane Plant Features
System operates at high pressure

CO

2

is easily recoverable near eliminating methane slip (loss)

The system is simple, innovative and modular

The delivery pressure of biomethane is from 10-20 bar with a biogas input flow rate from 50-3,000 Nm

3

/h
Selective Solvent Biogas-Upgrading Plants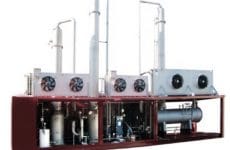 Selective solvents for CO2 such as amines are an established method of separating acidic gases from various types of gas including flue gas, biogas and syngas. TPI have experience of this technology type which may be deemed as desirable for our customers.
Contrasting to membranes, selective solvents operate at low pressure and require heat to regenerate. It is possible that this heat is derived from the surplus heat from a gas engine CHP plant.
The levels of separation achieved are high. Selective solvent plants are also ideal for use in situations where network injection occurs at low pressure.
High performance
The plant technology is based on the use of a dedicated solvent enriched with specific additives suitable for the treatment of biogas, that also allow the removal of CO2 without any special pre-treatment process.
The biomethane obtained by this process is of extremely high purity (more than 99%). With respect to traditional amines, solvent consumption is far lower.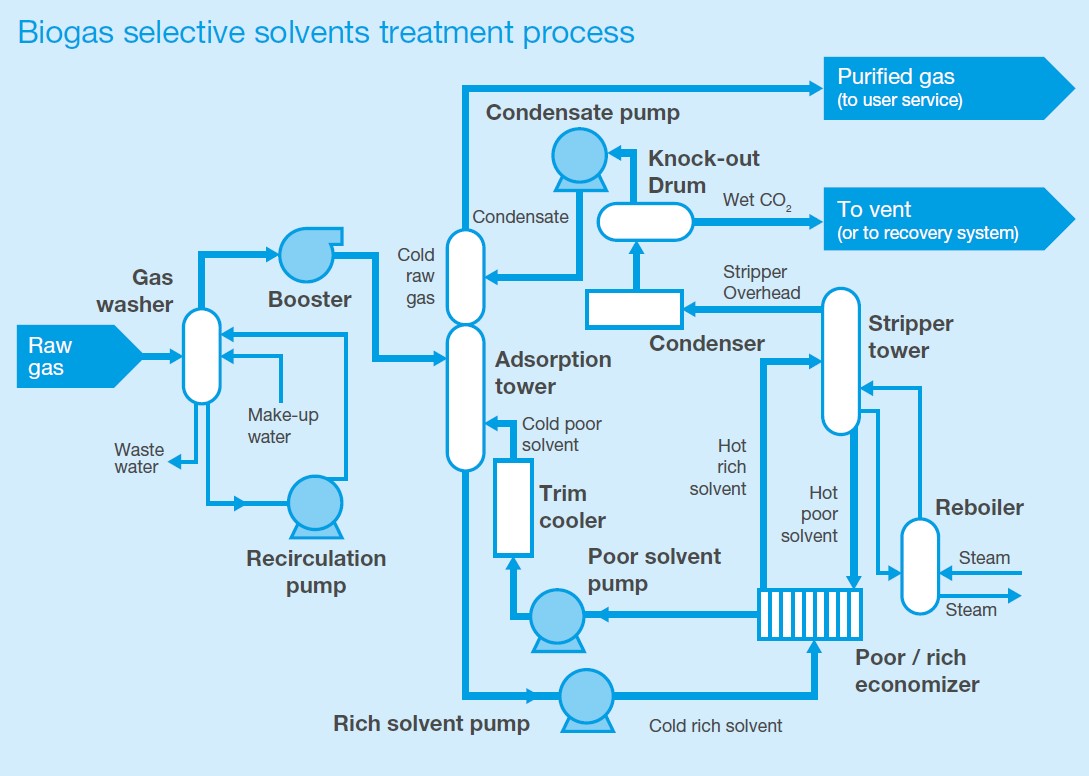 Figure 4: TPI's selective solvent-based biogas upgrading plant treatment process diagram
Features
Flow rate >500 Nm

3

/h

High CH

4

purity

High CO

2

purity

Ideal also for possible successive production of liquified biomethane
Learn More
If you would like to know more about TPI's products supplied by Clarke Energy, please contact Clarke Energy here for more information.
Biogas Upgrading and RNG Case Studies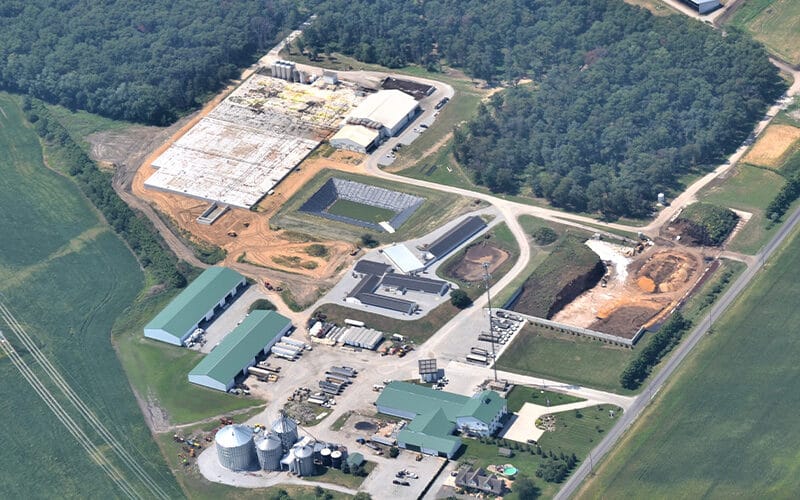 The project is a key strategic renewable energy win for Clarke Energy's USA business after expanding our product offering with RNG solutions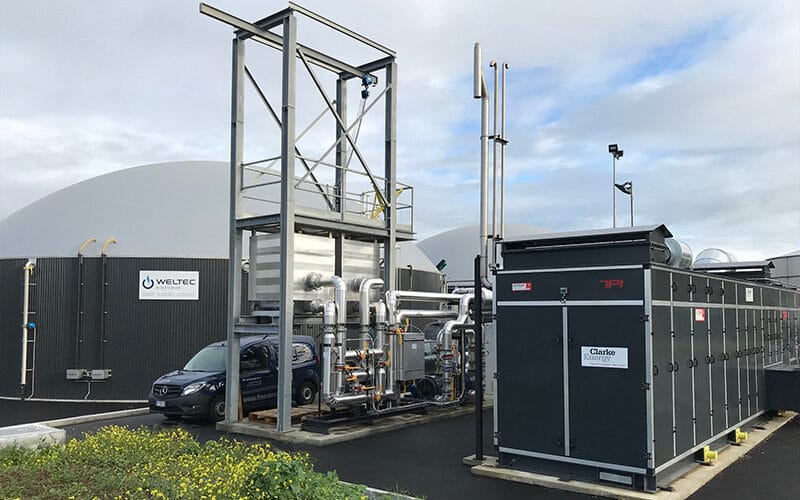 TPI biogas upgrading plant used to inject biomethane into national gas distribution grid.
Waste water treatment plant now producing biomethane to inject into the network.