High Efficiency Diesel Gensets
GE's 616 Diesel Gensets
Demand for distributed power is growing at a fast pace. Distributed Power solutions furnish power right where you are, with fewer channelling and distribution losses. The 616 Genset goes where you need it – on or off the grid, in remote locations, and even under the most demanding operating conditions, providing you with reliable power at lower fuel cost, extended equipment life and smaller footprint.
The 616 diesel genset epitomises the  most advanced reciprocating engine technology and addresses your most critical application challenges helping your business to become even more efficient and productive.
Extending the Type 6 legacy
The 2.6 MW 616 diesel engine has been designed for higher efficiency, more reliability and technology excellence. The 616 genset is powered by a four-stroke, turbocharged high pressure common rail diesel engine with lower fuel consumption, high power density and long overhaul intervals. The genset can be complemented by high levels of diagnostic and prognostic service capabilities for customers seeking more reliable and efficient electrical generation capabilities. To better meet your power generation challenges, GE have combined and enhanced the proven technology of the Jenbacher J616 gas engine with the P616 locomotive diesel engine from GE Transportation. Currently more than 3,500 Type 6 gas gensets are in operation worldwide, with more than 60 million operating hours, providing safer, more reliable and efficient power in the most demanding environments.
616 Customer Benefits:
Unmatched fuel consumption of 188g/kWh.
Stable power output and reliable efficiency in most demanding ambient condition.
Fast and simple installation.
Designed for ease of maintenance.
Full plant flexibility available with any multiple-engine installation.
Extended intervals between overhauls.
The 616 Diesel Engine and Genset Specifications
The 616 diesel common rail engine is equipped with a DIA.NE X4T4 engine controller, engine coolant pumps and temperature controls. The 616 genset is equipped with a frame mounted engine/generator and generator controls.
616 Engine Specifications
Cylinder
16V
Bore
190 mm
Stroke
220 mm
Speed
1500 rpm
Continuous Power
2.62 MW
Overload
+5% for 1 hour every 12 hours
616 Genset Specifications
Continuous Power
2.55 MW el at pf
Overload
5% for 1 hour every 12 hours
Full Load Fuel Consumption
188g/kWh (593.4 L/h)
Voltage Level
10.5/11 kV, 50Hz (others available)
Weigh (dry)
~30,700 kg
Engine Dimensions
Height (*A)
2550 mm
Width (*D)
1850 mm
Length (*C)
4600 mm
Crank centre to mounting feet (*F)
355 mm
Crank centre to bottom mount (*E)
815 mm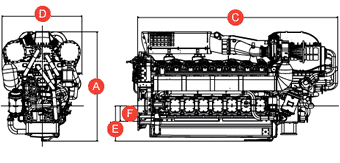 Genset Dimensions
Height (*A)
2550 mm
Width (*D)
2050 mm
Length (*C)
7350 mm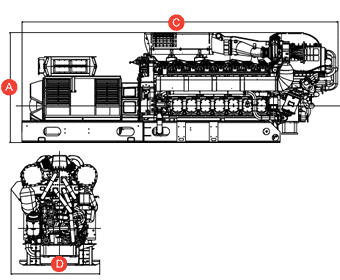 All-in-One Solution
With a full range of lifecycle services – from planning and plant realisation to operation – you can rely on Clarke Energy to get you up and running and keep you there with an excellent efficiency. Our highly skilled staff will give you the support you need to achieve competitive performance levels with a solution based on GE's 616 diesel genset solutions. With a worldwide service network focused on your success Clarke Energy can respond to meet your needs, no matter what you require.
Life cycle management
Clarke Energy supports your business through life cycle management. Clarke Energy offers a full range of services that increase the availability and productivity of your plant.
The DIA.NE* XT4 genset controller
The DIA.NE* XT4 genset controller offers the following functions:
Interface to engine management, genset monitoring control
Visualisation and data recording
Remote connection
Thanks to a newly designed user interface, now you can intuitively and easily manage, monitor and control your genset directly onsite, or via a remote connection. Controlling
your genset while on the go also is incredibly simple using a Windows 8 capable tablet. In conjunction with the 'myPlant' online system management tool from GE, DIA.NE XT4 also provides an interface to the virtual service and simplifies proactive maintenance planning for your power plant.