South Africa
Clarke Energy is the authorised distributor and service provider for Jenbacher gas engines in South Africa. Formed from the acquisition of Agaricus Trading (Pty) Ltd and Jenbacher South African Service business in 2013 Clarke Energy provides support to southern Africa from service and sales offices in Johannesburg.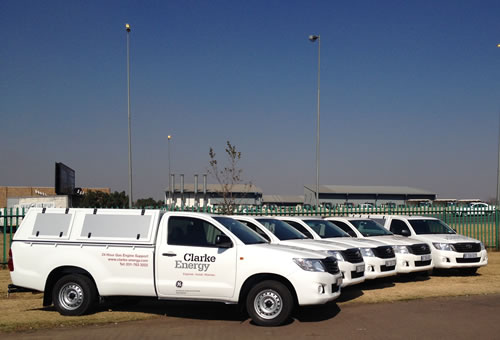 Clarke Energy's ethos is one of after-sales support; delivering high levels of equipment availability through the development of a strong local service presence with in-country parts supply.
There is significant potential for natural gas-based cogeneration and trigeneration. Key South African names including MTN and ABSA Towers have opted for the benefits of high efficiency gas engine based-power.
The South African gas to power market is unique thanks to the significant base of industrial furnaces. Jenbacher gas engines have been successfully installed at a number of ferro-metal and calcium carbide plants leading to the country being a centre of significant knowledge in the installation and maintenance of gas engines operating on furnace gas .South Africa also has supplies of its own unique gas 'Methane Rich Gas' which is produced by Sasol and originates from the Fischer Tropsch process. It is characterised as being very high in methane with H2, CO, N2 also being present.
Documents