Hospital CHP / Cogeneration
Using a combined heat and power (CHP) or cogeneration plant in a hospital is an ideal way of achieving improved energy efficiency and reduced carbon emissions. Its utilisation helps a hospital's limited financial resources go further. Natural gas is a clean-burning low carbon emission fuel. A CHP plant facilitates the high efficiency use of this fuel, by recovering not only electricity but also heat. If the hospital has need for cooling, hospital trigeneration (or combined cooling, heat and power CCHP) technology can produce a supplementary source of cold water for refrigeration or air conditioning.
There is increasing pressure on the hospitals, pharmaceuticals and healthcare sectors to improve efficiency.
With respect to energy this takes three key forms:
Making limited financial resources go further
Improving energy efficiency
Reducing carbon emissions
When a hospital purchases both electricity from the national grid and in parallel gas or another fuel for heating this can lead to high costs. Using a gas engine-based CHP plant facilitates the purchase of a single fuel source to achieve both the production of electricity and heat.
In a trigeneration configuration, surplus heat can also be used to generate cold water utilising an absorption chiller. The conversion efficiency of a gas engine is very high (>90%) and therefore can result in long-term operational cost savings for the hospital.
Hospitals by their nature are high energy consumers. Energy usage in hospitals takes a number of forms including:
Each of these energy types can be produced at high efficiency with the assistance of a combined
heat and power facility.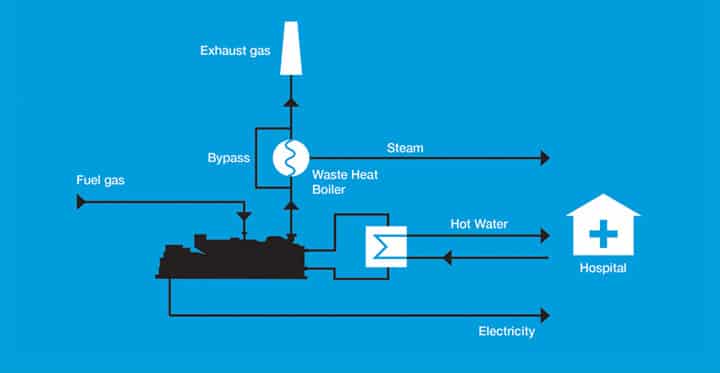 Benefits of CHP for Hospitals
Energy savings that can be diverted to fund the treatment of patients.
Financial benefits compared to the separate purchase of electricity and heating fuel.
Environmental benefits related to reduced carbon emissions.
Flexible technology that can be used to provide electricity, heating and cooling if required.