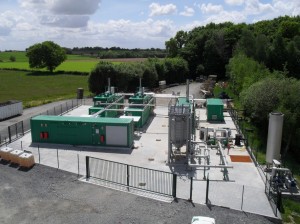 Brangeon Group have been logistic experts for more than one century and are becoming a leader in managing household and industrial waste in the South West area of France.
It's on the Poiteviniere non-hazardous landfill site, located in the Maine & Loire province (department 49) that Clarke Energy installed two GE's containerised Jenbacher type 2 engines for Brangeon in 2013. This installation is used to utilise the landfill gas produced by the breakdown of waste in the landfill.
These Jenbacher JMC 208 GS LL engines each produce an electrical output of 330 kWe and a thermal output of 330 kWth. The entire thermal output produce is used to warm up the leachate in order to favor the biological treatment afterward.
A containerised biogas boiler has also been supplied and installed by Clarke Energy, to burn biogas excess not consumed by the engines. It is used, in particular, as a backup during maintenance operations to avoid stopping the biogas valorisation and to ensure the reimbursement of the General Tax on Polluting Activities.
This turn-key installation entirely realized by Clarke Energy is the first in France equipped with type J208 engines. It is also the first installation in France coupled with a biogas boiler.