What Does Clarke Energy Do?
Clarke Energy is an authorised distributor and service partner for Jenbacher gas engines. We provide added value to the customer by acting as a single point of contact from initial sale, project management, design engineering and installation through to commissioning and long-term, reliable maintenance of gas engine power plant.
Clarke Energy has operations in 27 countries across the globe. We are specialists in cogeneration / combined heat & power (CHP) using gas engines. We have significant experience in a wide range of different renewable and high-efficiency gas applications including natural gas, biogas, landfill gas and coal gases.
Thinking of taking part in an apprenticeship scheme?
Apprenticeships are offered in many of the territories which we operate in.
Within the UK and Northern Ireland and the Republic of Ireland we work directly with colleges to recruit the best budding engineers we can find through rigorous recruitment processes, including assessment days and interviews.
Our 4-year programmes are tailor-made to the individual by ensuring the qualification pathway is right for the apprentice. Before college starts, we bring the apprentices to our head office in Liverpool where they have a 1-week induction, introducing them to the business, meeting other departments and employees and getting to know other apprentices who have also started or who are part way through the programme.
Experienced apprentices act as role models for the new recruits and offer them support and guidance throughout the programme.
Why join Clarke Energy as an Apprentice?
At Clarke Energy we understand the value apprentices bring to the business which is why we invest significant time and money into our programmes.
Our apprenticeship programme has been established for 22 years. During this time, we have fine-tuned it to ensure that our apprentices receive the maximum level of knowledge and skills, not only through qualifications and training, but also through mentoring and exposure to various opportunities across the business.
No matter your location and interests, there may be an apprenticeship scheme that suits you. For more information about your nearest opportunity, please contact our local HR teams.
It is a massive opportunity to be able to work for Clarke Energy. Since my first induction week, it was apparent that it is a great place to work and that feeling is only getting stronger with time. So far, I have finished my 1st year in college, this has been good as it has allowed me to learn the foundation that is necessary for engineering. I have found that I learn equally as much in the office from my colleagues, who are also helpful and happy to explain. Most of the time a simple question branches out to a whole science lecture, but I like the fact there is always more to learn and no one holds back information. I have had the opportunity to visit a couple of sites where I could look around and see the drawings that we produce in real life. It helps to see something in person compared to only seeing it on the drawings. The highlight was to see the engine run and I even had chance to start one up myself. As part of the apprenticeship, I am required to complete a competency log, which I think is a really good idea because it gives structure to the upcoming years. This helps me to see a clear picture about the course. The structure on how the course is built up is great, it gives enough room for studying as well as plenty of opportunities within the working environment. I have also had training with the Technical Training department where I was shown how to read Jenbacher drawings, which I can now draw up on CAD. In college, I have recently received an award for Foundation Stage Apprentice of the Year, which was out of 69 students.
Whilst at Clarke Energy I have so far gained valuable skills whilst working with an excellent team in the South West and Wales region. One thing I will say about the training, it is intense, it is challenging but rewarding
Being an apprentice at Clarke Energy has allowed me to develop crucial skills both in and out of the workplace. If you enjoy different challenges and tasks every day then this apprenticeship will suit you.
Clarke Energy is a great company that invests in your future and has given me opportunities I didn't think I would have!
In the UK, our apprenticeship programme recognises the hard work, determination and dedication that our apprentices deliver.
We hold an annual awards ceremony to celebrate the success of our apprentices.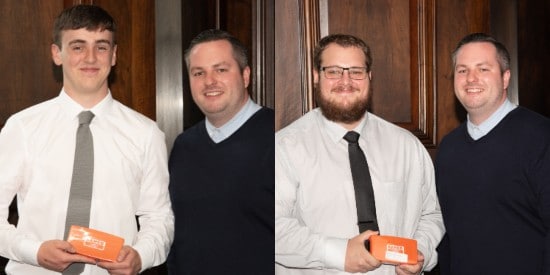 Photography Competition
Every apprentice submitted two photographs, one of which is work related and the other which isn't related to work. These were then reviewed by the apprenticeship team and two winners were chosen.
Work-related: Daniel – Technical Engineering Apprentice
Non work-related: Jack – Technical Engineering Apprentice
Survival Award
In 2019, all apprentices attended a residential development week. Each apprentice and the technical trainer voted for someone they would want to be stuck on a desert island with, who would be able to help them survive. Nominations included a brief explanation as to why they would pick that person and then one winner was selected.
Winner: Shaun – Overhaul & Repair Apprentice.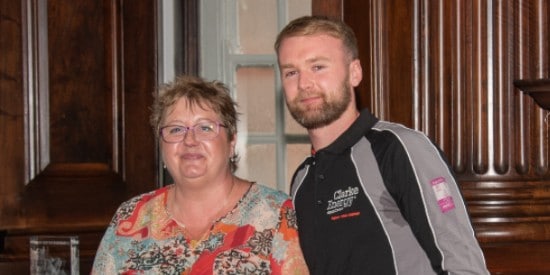 The James Cartwright Award
This award was created for 2019's apprentice awards in memory of James Cartwright. The apprentice who won this award, had to show strong commitment, a positive attitude and demonstrated potential in their role.
Winner: Stephen – Field Service Engineer Apprentice (Ireland).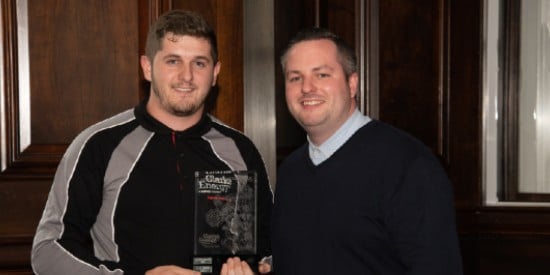 Clarke Energy Apprentice of the Year 2019
The apprentice of the year award seeks to acknowledge and celebrate an apprentice's exceptional contributions to their workplace, college work, competency matrix and team. The apprenticeship team decide this based on the following criteria:
Accountability: Demonstrates commitment to personal development and progression, they may have shown real accountability that adds value to their teams.
Integrity: Is trustworthy, honest and will consistently complete tasks to a deadline when instructed.
Quality: Demonstrates inspirational levels of achievement and attainment
Reliability: showing to perform consistently, a valued member of the team
Winner: Adam – Field Service Engineer Apprentice
We pride ourselves on offering a bespoke graduate programme, tailored around you, your interests, your skills and your career aspirations. If you are looking to kick start a rewarding career with a global engineering company, keep reading.
What we look for
Passionate about engineering
Excellent communication skills
Insatiable curiosity and plenty of initiative
Good at problem solving
What you'll need
2:1 or above in your bachelor's degree in Engineering, Maths, a relevant Physical Science; or equivalent qualification.
For more information on applying for a graduate role at Clarke Energy, please contact the local HR Team.
Here are some of our current graduates at Clarke Energy:
I applied through the university of Liverpool CareerHub, this is using the universities links with hundreds of employers with many graduate opportunities. This link was established when Clarke installed the CHP on campus. My degree at the University of Liverpool in Electrical and Electronic Engineering has given me a well-rounded knowledge coming into the industry of design engineering. I felt I knew exactly what Clarkes aims were through my interview and this met the needs that I was looking for to start my career. Having to do a presentation in the interview stage really helped me look into the waste to energy sector. I feel Clarke as a company has invested in me so much already sending me on courses such as AutoCAD Essentials, Endress and Hauser meter installation as well as my 18th edition. I am also looking forward to the Gas Engines course to get a closer look at the engines themselves. Since joining, my main responsibility is the loop drawings, so I am understanding how the connections are made and what is needed for the designs of different projects. I have also had the opportunity to be taken to site and put the drawings into a real life scenario. Everyone in the company couldn't do anything more for you and have made me feel at ease in the work place with making such a jump from University to full time work. I am looking forward to the future and taking on more responsibilities within Clarke Energy and expanding my knowledge.
As a graduate at Clarke Energy, you're not just a new joiner in the corner, you're immediately part of the team! You're set challenging projects from day one, expanding on your knowledge learnt at university and providing you with new opportunities. I completed a rotary graduate scheme where I worked in each department of the company: sales, engineering, projects and service. The graduate development programme significantly improved my development within engineering and industry whilst giving me the opportunity to travel to Austria, Poland and Ireland.
During my second year at university I opted to take a year out to gain industrial experience and applied for a placement at Clarke Energy, after being successful in the hiring process, I started as an undergraduate engineer with the aim of gaining experience across all engineering roles within the 12 month period.
I started my journey in the Engineering and Design department getting involved in live projects from the go under the supervision of the Senior Mechanical Engineer, moving on to the sales department being involved in client meetings and pricing projects. My third department was in the Projects team, continuing the work I had undertaken in the design team by being on site on the project and seeing it come to life. Finally I spent a couple of months in the service department with the service, Overhaul and Commissioning teams.
At the end of the placement I was offered a full-time job as a Trainee Mechanical Engineer whilst finishing my degree off part time. To complete my final year of study part time I had to split the work over a two year period, during this time I was given sufficient support to ensure I completed my studies, this was in various ways such as study days to revise to technical help from my colleagues to help with my University work.
Since the completion of my degree I have successfully passed my trainee period and am now a Mechanical Engineer leading designs of various complexity.
At Clarke Energy we are proud to be able to offer work experience to students. Each placement is tailored to the individual to make the most of the time they spend with us. By creating personalised work experience opportunities, we can also help students to make more informed choices about their future. For more information about work experience opportunities, please contact the HR team within your region.
Recruitment Agency?
Clarke Energy have a Preferred Supplier List which covers all recruitment within the UK and Ireland. We have no current plans to review our supplier list. If we are required to update or review our list, we will reach out to agencies directly. We would kindly ask for recruitment agencies to refrain from contacting Clarke Energy. If unsolicited CV's are sent to Clarke Energy without agreed terms of business in place, we reserve the right to contact any potential candidates. Thank you for your co-operation.