Clarke Energy & Trina Storage appointed as key contractors.
  Field Newport is expected to connect to the grid Q3 2024, supporting the path to a greener, more flexible, and more reliable GB grid.
London, 29 August 2023 – Field is to break ground at its Newport battery storage site in South Wales later this month. The renewable energy infrastructure company has signed contracts with two key partners to construct the 40 MWh site, which will contribute to the UK's efforts to decarbonise energy supply.
Field has signed contracts with Clarke Energy for construction, installation and supply of balance of plant, while Trina Storage will provide a fully integrated battery storage system for the site. The news follows Field's recent £200m funding round led by DIF Capital Partners. With contracts signed, the Newport site is expected to be up and running in the third quarter of 2024.
Founded in 2021, Field is dedicated to building the renewable energy infrastructure needed to reach net zero, starting with battery storage.
Field's first battery storage site, in Oldham (20 MWh), commenced operations in 2022. A further four sites across the UK totalling 210 MWh are either in or preparing for construction, including Field Newport. Field also recently announced its expansion into Italy, with the aim of building a multi-gigawatt portfolio in strategic locations across the country.
Field selected Clarke Energy for Field Newport based on the company's extensive track record in delivering complex energy solutions and its project management expertise. Clarke Energy has implemented over £3bn worth of projects around the world, with more than 8 GWe delivered in gas-fired generation, combined heat & power, back-up power, microgrids, biomethane injection, hydrogen generation and battery storage.
Trina Storage, a global leader in advanced energy storage solutions, will supply Field Newport with a fully integrated battery system. Trina Storage's battery solution will include Tier-1 battery racks, Power Conversion Systems, and an advanced software & control system, seamlessly integrated for optimal performance and lifetime.
Chris Wickins, Technical Director at Field, said:

"We're excited to be starting construction work at our 40 MWh site at Field Newport. With Clarke Energy's comprehensive experience delivering renewable energy projects, and Trina Storage's battery technology, we're looking forward to Field Newport becoming operational and helping create a more reliable, flexible and greener grid". 
Adam Wray-Summerson, Head of Sustainable Solutions, Clarke Energy, said:

"Clarke Energy are proud to be supporting Field in delivery of the Field Newport battery energy storage system project. This facility will help balance supply of renewable power and demand in the South Wales region, whilst ensuring grid stability as we transition to a net-zero future. Clarke Energy's experience in the deployment of renewable power assets around the world, and our cradle-to-grave delivery philosophy, were some of the reasons why Field selected us as a partner. We look forward to developing our relationship with the Field team and to delivering this project successfully".
Daniel Greten, Head of EMEA at Trina Storage, added:
"We are delighted to once again join forces with Field, building on the work we're also doing at Field Gerrards Cross. This project not only showcases Trina Storage's technical expertise, but also highlights our unwavering commitment to pioneering solutions that empower and support our valued partners".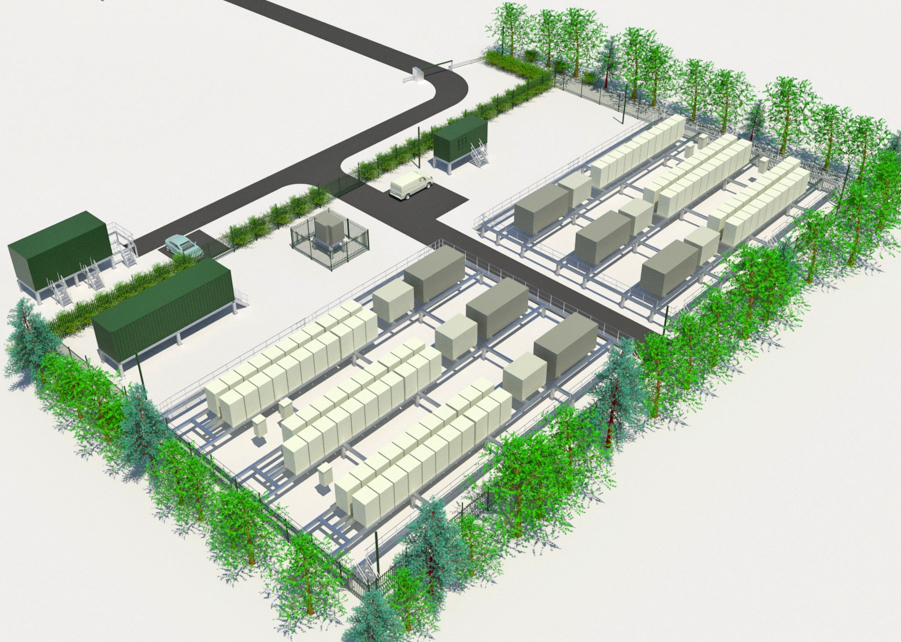 About Field
Field develops, builds and operates the renewable infrastructure we need to reach net zero — starting with battery storage. Our battery storage sites provide clean energy when and where it's needed most. This creates a more reliable, flexible and greener energy system that provides greater energy security and helps countries across Europe move on from expensive fossil fuels.
In the UK, our portfolio of battery sites are already helping to decarbonise the electricity grid, and we are already developing further projects across Europe.
https://www.field.energy/
About Clarke Energy
Clarke Energy is a multinational renewable technology and EPC business with over 30 years' experience delivering complex energy solutions and project management. We specialise in the delivery of low carbon, hybrid, and flexible energy, backed by strong balance sheet and aftersales support.
We deliver a complete package, including project feasibility, specification and planning assistance to detailed design, project management, construction, and aftersales support. Our global experience with renewable technology installations is helping countries around the world generate low carbon power, as we transition to net zero.
https://www.clarke-energy.com/supporting-net-zero/
About Trina Storage
Trina Storage, business unit of Trina Solar, is a global energy storage system provider dedicated to transforming the way we provide energy. Our mission is to lead the renewable energy transition through cost-effective storage and to provide Solar For Everyone by expanding solar generation at scale. Building on 25 years of solar experience, we deliver cost-effective and flexible solutions to utilities and developers around the world.​
More information is available on the Trina Storage website, Facebook and LinkedIn.