Mixed emotions as Clarke Energy's Australian operation helped to celebrate the end of era, as 'The Julian Burton Burns Trust' finishes up this year in June. The leading Australian non-profit organisation dedicated to burn related injury; along with its board and CEO Julian Burton put on an elegant a Fire and Ice themed ball, on the evening of May 4th as a heartfelt thank you to all who supported the Trust over their fifteen year duration.
Clarke Energy in Australia has been affiliated with The Julian Burton Burns Trust as a community partner and key sponsor, since 2014; working together and sharing a common goal to reduce the incidence and impact of burns injury in the community. This relationship has enabled The Burns Trust to implement much needed education programs, focusing on burns prevention and first aid in South Australia, and Nationally.
As the Program Partner of the 'BurnSafe Junior Program' Clarke Energy facilitated the successful launch in South Australia in 2017. Since then this program has educated over 5000 early learning children and a further 20,000 through the distribution of BurnSafe Junior take home education packs.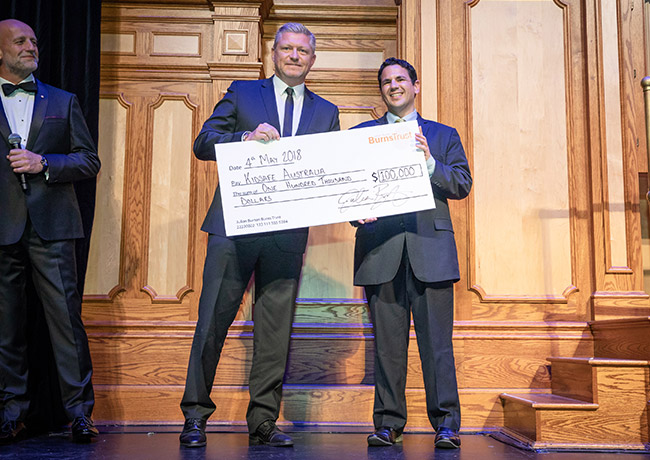 Burns Awareness month was the perfect opportunity to spread the burns safe message and get the word out about Burns First Aid – "Cool running water for 20 minutes". Clarke Energy employees and volunteers took to Adelaide's signature shopping precinct 'Rundle Mall', back in 2017 July school holidays. Armed with take home education packs and balloons; Staff and Volunteers alike engaged with over 900 families- making the Burns Education Day a great success.
In the face of natural disaster and tragedy Clarke Energy along with a group of various South Australian corporate and community organisations raised $25,000 in donations as a result of the Pinery Bushfires & the Ravenshoe Café explosion tragedies. All funds provided financial support to burn survivors and their families affected by both disasters, as well as assist the survivors and families with out of pocket costs such as ambulance and accommodation expenses whilst undergoing ongoing rehabilitation.
Furthermore, ensuring quality of life for young burns survivors; Clarke Energy Australia banded together with various others, in conjunction with 'TeamKids' at the Women's and Children's Hospital Foundation to raised funds for a state-of-the art kids rehabilitation gymnasium. Situated at the Women's and Children's hospital the Gymnasium was launched in South Australia in April 2015.
During his farewell speech at the "Fire and Ice" ball on Friday 4 May 18, Julian Burton, OAM mentioned "There is no cure for burns". The Burns Trust generously donating $1 million to charities who will continue the work that is vitally important to the burns unit and to the long-term recovery and rehabilitation of people suffering devastating and life-changing burn injury.
While all the mentioned achievements have come about to support the Julian Burton Burns Trust in making a difference in the burns community. It's not goodbye for good, it is see you later- After making the difficult yet necessary decision Julian Burton, OAM, has chosen to pursue a new opportunity in the burns field moving forward.  Julian together with Dr. John , AM, have created a company called 'Skin Tissue Engineering' with the vision of removing the need for the Skin G to which this innovative technology will eventually remove some of the pain and trauma burns victims would face during rehabilitation.