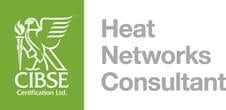 Adam Wray Summerson, Clarke Energy's Major Project Specialist has achieved the 'Heat Networks Consultant Certification'.
Heat Networks: Code of Practice for the UK is the first Code of Practice to be published by the Chartered Institution of Building Services Engineers (CIBSE). It has been produced as a joint project between CIBSE and the Association for Decentralised Energy (ADE) and was launched on the 8th July 2015.
If heat networks are to form a significant part of our future low carbon energy infrastructure in the UK, and meet client and customer expectations, then they need to be designed, built and operated to a high quality. The Code has been produced to assist in achieving that aim by raising standards right across the supply chain through setting minimum (and best practice) standards that should provide greater confidence for specifiers and developers. It is intended that the Code can also be included in the tendering/contracting process to specify minimum requirements for a project.
CIBSE, supported by the Department for Business, Energy & Industrial Strategy (DBEIS) has also developed training and registration of heat network professionals to ensure that the skills necessary to implement the Code of Practice are available across the sector. The Code of Practice, supported by these trained professionals, should provide a step change in the heat network sector.
To receive the title of Heat Network Consultant, Adam Wray-Summerson demonstrated through training and examination, his understanding and application of the Code. Adam also became the first Chartered Engineer within Clarke Energy in December 2014 demonstrating his continued focus on development of the engineering profession, sustainability and energy efficiency.
The Code of practice is written to cover all stages of the development cycle of a project from feasibility through design, construction, commissioning and operation. The core of the Code is structured as follows:
• The typical sequence of a project from initial brief and feasibility through to operation and maintenance.
• For each project stage, a number of objectives are set.
• For each objective a number of minimum requirements are defined to achieve the objectives.
All of these minimum requirements will need to be met if the project is to comply fully with the Code. The Code may be used either for the entire project or for a particular stage but the greatest value will be obtained when it is followed for all stages.