For a second year running Clarke Energy were proud sponsors of the 'Diggers and Dealers 2016 cocktail reception' an event which closes off the first day of the show held in Kalgoorlie, Western Australia.
Diggers & Dealers was celebrating its 25th year anniversary and combined presentations by Australian Securities Exchange (ASX) listed mining and exploration companies, complete with a large exhibition area housing exhibitors from the sector.
Clarke Energy's Michael Jones, Robert Adams, Martin Smith and Paul Lughermo worked together to both staff the Clarke Energy exhibition stand and network with the delegation of mining and exploration companies.
Clarke Energy's stand saw a visit by the Western Australian Minister for Mines and Petroleum – Sean L'Estrange, who was interested in Clarke Energy's role in offering the local mining sector cost effective, highly efficient power generation infrastructure.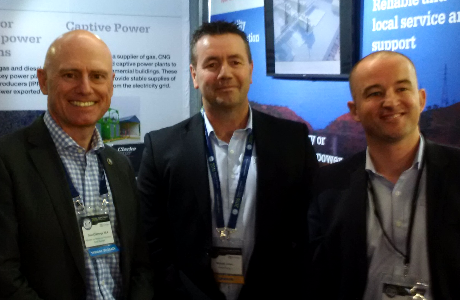 Both the Minister and Clarke Energy personnel were delighted with the positive sentiments in relation to the mining sector evident at this year's conference event.
As part of the festivities, Clarke Energy had a prize draw for a 'Fit Bit' watch. Ian Murray from Gold Road Resources was the lucky winner of the prize. Thanks from Clarke Energy to all those who participated.