Clarke Energy Secures Its First Project in Tanzania with Azam Flour Mill Deploying One of GE's Jenbacher J612 Gas Engines
Helping Bakhresa Foods Reduce the Yearly Operating Costs  through the Deployment of a New Gas-Fuelled CHP Plant
Project Demonstrates Growing Availability of Gas in Dar es Salaam Following Completion of New Gas Pipeline
Note – Swahili translation at bottom of page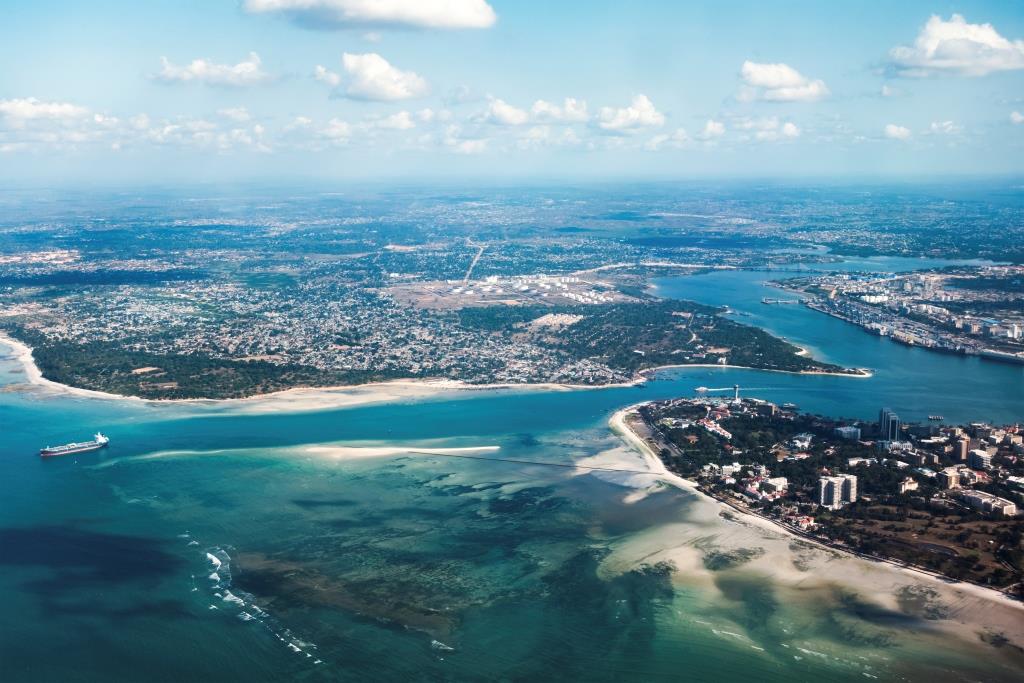 DAR ES SALAAM, TANZANIA – Clarke Energy and GE's Distributed Power business (NYSE: GE) today announced that Clarke Energy, GE's authorised distributor of Jenbacher gas engines, is supplying one of GE's high-efficiency Jenbacher gas engines to Said Salim Bakhresa & Co Ltd (Bakhresa) for a combined heat and power (CHP) plant, which will support the Azam flour mill in Dar es Salaam, Tanzania. The deployment of this high-efficiency, gas-fuelled CHP plant will help Bakhresa reduce its yearly operating costs.
"We selected GE and Clarke Energy for our site in Dar es Salaam due to the efficiency performance of similar units in Tanzania and their service support available in the country," said Mr. Rajesh Nair, technical manager, Said Salim Bakhresa & Co ltd
Tanzania has large domestic reserves of gas that are located in coastal waters off the southern part of the country. There have been two gas pipelines constructed in Tanzania to transport that gas from the site of production to the site of use. The first pipeline reached full capacity a number of years ago and supplied a limited number of industries with gas for self-consumption. The second gas pipeline has just been completed resulting in new supplies of gas being made available to industry.
"Bakhresa is one of the leading industrial houses in Tanzania, and this natural gas-fuelled power generation has significant cost- and carbon-saving benefits," said Hugh Richmond, business development director, Clarke Energy. "As Clarke Energy's first project in Tanzania, it will help reduce the factory's operational costs and, in parallel, deliver reliable power."
This installation for Bakhresa will utilise the newly available gas to generate high-efficiency, reliable power in the form of electricity and heat. Clarke Energy will provide one of GE's Jenbacher J612 gas engines capable of generating 1.82 megawatts (MW) of electrical energy. The plant will be configured as a CHP plant, with heat from the engines being fed into a steam boiler that is able to produce 1,040 kilograms per hour of steam at 6 barg. The power plant also will operate in a grid-synchronous manner. Clarke Energy is delivering an integrated solution for the CHP plant. This will incorporate both mechanical and electrical installation works along with grid connection support for the 33-kilovolt link.
"GE's Jenbacher J612 gas engine features lower emissions and increased efficiency," said Oluwatoyin Abegunde, sub-Sahara Africa regional leader for GE's Distributed Power business. "By combining our proven technology and Clarke Energy's expertise, we are able to provide a highly reliable, cost-effective solution for Bakhresa's new CHP plant and support the growth of Tanzania's industrial base."
Bakhresa Group, one of the leading Industrial Houses in Tanzania, East Africa, started in the 1970s. The group has now emerged as one of the prominent family owned business group in the region with its operations spread in Tanzania, Zanzibar, Uganda, Kenya, Rwanda, Burundi, Malawi, Mozambique and South Africa. There are several companies under its umbrella, and it has investments primarily in the food and beverage sector, packaging, logistics, marine passenger services, petroleum and entertainment.
About Clarke Energy
Clarke Energy is a leader in the engineering design, installation and long term maintenance of gas and diesel engine-based power plants. The company is authorized sales and service provider for GE's reciprocating engines in 17 countries. The company provides added value through engineering, installation and maintenance of facilities. Clarke Energy employs over 1000 staff and has over 5,000MW of Jenbacher generation equipment operating in its operational areas.
Clarke Energy has been operating in Tanzania since 2013 when GE selected the company as its official sales and service provider in the country. There are a number of Jenbacher engines installed in the country for important industries such as Kioo Glass, TCC, Tanesco and for the new gas pipeline. www.clarke-energy.com
About GE's Distributed Power business
GE's Distributed Power business is a leading provider of engines, power equipment and services focused on power generation and gas compression at or near the point of use. Distributed Power offers a diverse product portfolio that includes highly efficient, fuel-flexible, industrial gas engines generating 200 kW to 10 MW each of power for numerous industries globally. In addition, the business provides life cycle support for more than 36,000 gas engines worldwide to help you meet your business challenges and success metrics—anywhere and anytime. Backed by our authorized service providers in more than 170 countries, GE's global service network connects with you locally for rapid response to your service needs. GE's Distributed Power business is headquartered in Jenbach, Austria.
About GE Power
GE Power is a world leader in power generation with deep domain expertise to help customers deliver electricity from a wide spectrum of fuel sources. We are transforming the electricity industry with the digital power plant, the world's largest and most efficient gas turbine, full balance of plant, upgrade and service solutions as well as our data-leveraging software. Our innovative technologies and digital offerings help make power more affordable, reliable, accessible and sustainable.
For more information, visit the company's website at www.gepower.com. Follow GE Power on Twitter @GE_Power and on LinkedIn at GE Power.
About GE
GE (NYSE: GE) is the world's Digital Industrial Company, transforming industry with software-defined machines and solutions that are connected, responsive and predictive. GE is organized around a global exchange of knowledge, the "GE Store," through which each business shares and accesses the same technology, markets, structure and intellect. Each invention further fuels innovation and application across our industrial sectors. With people, services, technology and scale, GE delivers better outcomes for customers by speaking the language of industry. www.ge.com
###
For more information, contact:
Alex Marshall
Group Marketing & Compliance Manager, Clarke Energy
+44 7917 066 242
alex.marshall@clarke-energy.com
Susanne Reichelt
GE's Distributed Power
+43 664 80833 2382
susanne.reichelt@ge.com
Swahili Translation
KAMPUNI YA "Clarke Energy" KUPUNGUZA GHARAMA ZA UENDESHAJI BAKHRESA

Dar es Salaam, Tanzania–14 Aprili 2016 Kampuni ya GE ambayo imejikita kwenye biashara ya uvumbuzi na usambazaji wa nishati (NYSE: GE) leo imetangaza kuipa mamlaka Kampuni ya Clarke Energy inayojishughulisha na masuala ya Nishati. Kampuni hiyo ambayo huuza injini hizo kwa niaba ya GE itasambaza injini ya gesi aina ya Jenbacher na itaiuza injini hiyo moja yenye ufanisi wa hali ya juu kwa Kampuni ya Said Salim Bakhresa (Bakhresa) ili kukamilisha kituo cha kufua Nishati ya joto. Kituo hicho kitasambaza umeme huo kwenye Kiwanda cha Kusaga Nafaka cha Azam kilichopo Dar es Salaam, Tanzania na hivyo kusaidia kupunguza gharama za uendeshaji za kampuni hiyo kwa mwaka.
"Sisi tuliwachagua GE pamoja na Kampuni ya Clarke Energy hapa Dar es Salaam kutokana na utendaji wao wenye ufanisi mkubwa katika maeneo mengine nchini Tanzania pamoja na urahisi na upatikanaji wa huduma zao kwa wateja hapa nchini" alisema Rajesh Nair, Meneja Ufundi, Said Salim Bakhresa & Co Ltd.
Tanzania ina akiba kubwa ya gesi ndani ya mwambao wa Pwani na kusini, kumekuwa na mabomba mawili ya gesi ambayo yamejengwa nchini ili kusafirisha gesi kutoka kitovu cha uzalishaji kuelekea kwenye maeneo ya matumizi. Bomba la kwanza lilikamilika miaka michache iliyopita na idadi ndogo ya viwanda na wauzaji wa matumizi binafsi waliunganishwa katika bomba hilo. Bomba la pili la gesi ndiyo limemalizika hivi karibuni na kufungulia fursa ya ununuzi wa gesi kwa viwanda vingi zaidi.
"Bakhresa ni moja ya kampuni inayoongoza katika sekta ya viwanda Tanzania na ufungaji wa mtambo huu wa kuzalisha umeme kwa njia ya gesi asilia, utasaidia kupunguza gharama za uendeshaji pamoja na kupunguza uchafuzi wa hali ya hewa," alisema Hugh Richmond, Mkurugenzi wa Maendeleo ya Biashara, Clarke Energy. "Huu ukiwa kama mradi wa kwanza wa kampuni yetu nchini Tanzania, utasaidia kupunguza gharama ya kiwanda kujiendesha huku ukifua umeme wa kuaminika utakaotosheleza mahitaji," alisema Richmond.
Ufungaji wa mtambo huu utaiwezesha Kampuni ya Bakhresa kutumia gesi hii mpya kupata nishati za umeme na joto kwa ufanisi na uhakika. Kampuni ya Clarke Energy huuza kwa niaba ya GE aina ya injini ya gesi Jenbacher J612 yenye uwezo wa kuzalisha megawati 1.82 (MW) za nishati ya umeme. Mtambo huu utazalisha pia nishati ya joto ambayo itaingizwa kwenye jiko la mvuke lenye uwezo wa kuzalisha kilowati 1,040. Clarke Energy itakua mvumbuzi kwa kuzalisha nishati ya umeme na joto ambapo hili litafanikiwa kwa kufunga mitambo ya umeme kwenye gridi ya taifa ili kuweza kubeba mzigo wa kilovolti 33".
"Injini za mtambo wa gesi aina ya Jenbacher J612 huzalisha hewa chafu kidogo, ila huzalisha umeme kwa ufanisi wa hali ya juu," alisema Oluwatoyin Abegunde, Mkuu wa Biashara GE Distributed Power kampuni inayojishughulisha na usambazaji wa nishati katika Kanda ya Kusini mwa Jangwa la Sahara Afrika. Alisema," Kwa kuchanganya teknolojia yetu ya uhakika na utaalamu wa Kampuni ya Clarke Energy, kwa pamoja tutazalisha umeme wa uhakika pamoja na suluhisho la kupunguza gharama kwa Kampuni ya Bakhresa na hivyo kuwasaidia kuwa mbele ya viwanda vingine nchini Tanzania."
Kampuni ya Bakhresa, ni moja ya viwanda vinayoongoza nchini Tanzania na Afrika Mashariki ambayo ilizinduliwa mwaka 1970. Leo hii familia ya viwanda vya Bahkresa imezidi kujizolea umaarufu kibiashara katika Ukanda wa Afrika Mashariki zikiwamo nchi za Tanzania, Uganda, Kenya, Rwanda, Burundi. Pia nchi za Malawi, Msumbiji na Afrika Kusini. Tayari kuna makampuni kadhaa chini ya mwamvuli wake na imewekeza hasa kwenye sekta ya vinywaji, ufungaji vifaa, huduma za baharini, mafuta ya petroli na burudani.
KUHUSU KAMPUNI YA CLARKE ENERGY
Kampuni ya Clarke Energy inaongoza katika uhandisi, ufungaji na ukarabati wa muda mrefu wa mitambo ya Nishati kupitia gesi na dizeli pamoja na makaa. Kampuni hii ni wakala wa GE katika mauzo na kutoa huduma kwa ajili ya injini za gesi katika nchi 17. Kampuni inatoa huduma bora za uhandisi, ufungaji na ukarabati wa vifaa. Kampuni imetoa ajira kwa zaidi ya wafanyakazi 1,000 na ina zaidi ya injini za uwezo wa Mega-wati 5,000 (MW) aina ya Jenbacher katika maeneo yake ya utoaji huduma. Clarke Enegry imekuwa ikifanya kazi nchini Tanzania tangu mwaka 2013 baada ya Shirika la GE kuwachagua kama mawakala wake rasmi wa mauzo na kutoa huduma nchini. Kuna injini kadhaa aina ya Jenbacher ambazo zimeunganishwa kwenye viwanda mbalimbali tayari nchini kama vile Kioo Kioo, TCC, Tanesco na kwa bomba jipya la gesi.
www.clarke-energy.com
KUHUSU BIASHARA YA NISHATI GE
Pia, Shirika la GE linatoa huduma ya injini, vifaa vya umeme na huduma zinazolenga kuzalisha umeme na matumizi ya gesi. Aidha, shirika linatoa huduma mbalimbali zikiwamo bidhaa za kuzalisha umeme zenye ufanisi, injini zenye uwezo kwa kutumia gesi au mafuta kwa
ajili ya viwanda vyenye uwezo wa kuzalisha umeme kuanzia 200 KW hadi 10 MW kwa ajili ya viwanda mbalimbali duniani. Kampuni hutoa msaada wa kifundi kwa injini za gesi zaidi ya 36,000 duniani kote ili kusaidia wateja kufikia malengo yao ya kibiashara na mafanikio mahali popote na wakati wowote. Tukiwa na watoa huduma kwa wateja ndani ya nchi zaidi ya 170 duniani, mtandao wa huduma kwa wateja wa GE duniani unamuunganisha mteja popote alipo na huduma na msaada wa haraka. Makao makuu ya kitengo cha biashara ya nishati ya GE yapo
Jenbach, Austria.
KUHUSU KAMPUNI YA NISHATI GE
Kampuni ya Nishati ya GE inaongoza ulimwenguni katika uzalishaji wa umeme ikiwa na utaalamu wa hali juu katika kuwasaidia wateja kufua umeme wa mkubwa na wa uhakika wa vyanzo na mafuta. Tunaibadilisha sekta ya umeme na viwanda vya kidijitali tukiwekeza zaidi kwenye nguvu kubwa na ufanisi katika gesi duniani, kuboresha na uvumbuzi wa huduma
mbalimbali kama vile programu ya uvumbuzi wa data.
Kwa taarifa zaidi, tembelea tovuti ya kampuni hii kupitia
www.gepower.com . Kuifuata GE Power Twitter @GE_Power na LinkedIn ni GE Power
KWA TAARIFA ZAIDI WASILIANA NA:
Alex Marshall
Meneja Masoko, Clarke Energy
+44 7917 066 242
alex.marshall@clarke-energy.com
Vicky Kaigai
GE Africa
+254 204 215 109
vicky.kaigai@ge.com