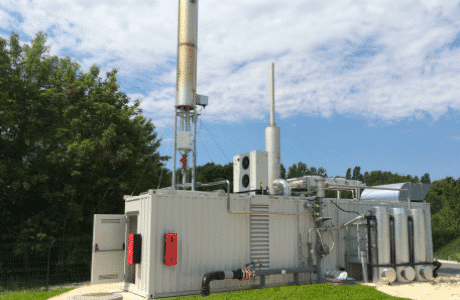 In 2014, the dairy cooperative of Lochoise region, has awarded Clarke Energy the installation of a cogeneration module on its anaerobic digestion site, located at Verneuil-sur-Indre in Indre et Loire.
The biogas plant which was established in 2014, consumes discharges from milk production, the wastewater treatment plant in the town, as well as several agricultural sites in the region. The main objective of this unit is to produce gas that will be consumed by a cogeneration module. The site is sized to produce 600kW of biogas.
Clarke Energy was focused on the turnkey installation of its first generator type Energolux / Liebherr ENL946 BG235 simultaneously to produce 235 kWe and 240 kWth with a temperature regime of 70 ° C / 90 ° C.
The electricity will be injected to the grid, and as for the thermal power, it is consumed by the dairy for the production. It can also heat up the biogas plant, which accelerates the production of biogas. The overall efficiency of the plant would be increased to 82.5%.
The establishment of the center has been studied to create the entry and exit of air ducts, and to integrate the acoustic background to respect the original sound levels. This turnkey installation carried out entirely by Clarke Energy, is the first in France equipped with a ENL946 type of engine.