Clarke Energy's UK operations reached its biggest milestone to date this year, achieving 1 gigawatt (GW) of installed power.
Since the company started in 1989 it has grown from strength to strength, breaking boundaries in the gas engine business. Clarke Energy was appointed the authorised UK distributor for Jenbacher in 1995, which was a key milestone for Jim Clarke, the Chairman of the company, with his son Jamie Clarke as current CEO.
Clarke Energy is presently one of the world's leading suppliers of gas-powered reciprocating engine and combined heat and power plants. This was largely thanks to the company's strong service based operation and enviable reputation for top quality, reliable and accountable customer service.
Throughout the years Clarke Energy has installed this equipment for biogas, natural gas, landfill gas, sewage gas and greenhouse applications across the UK. Clarke Energy's growth in the UK has been matched in other countries and the company now has over 4.8GW of power generation equipment spread across 17 countries.
Some customers in the UK included Biffa, waste management company, Infinis, British renewable energy company, Dundee University, Edinburgh University, Glasgow Caledonian University, St Bartholomew's Hospital NHS Trust and Guys and St Thomas', not to mention The Shard and Kings Cross development.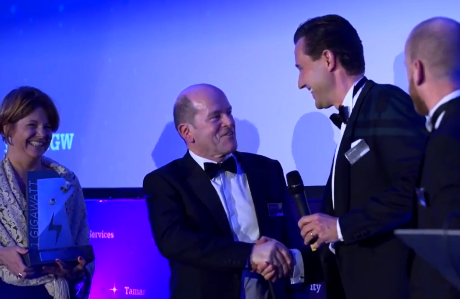 Due to achieving this important milestone Clarke Energy saw this as a great opportunity to thank customers, suppliers and industry bodies who have helped us. The event itself was held in the iconic Liver buildings in 'The Venue' on the evening of 19th November. The night included canapes, three course meal, comedian Paul Boardman and band Hipster along with casino tables and drinks all evening. From start to finish the guests provided fantastic feedback about the event and networking opportunities. On the whole it was a great event for all businesses to network with a cross section of the UK's most important power companies.
On the evening GE gave Clarke Energy an award for reaching this milestone from the newly appointed president of GE's Power Business Carlos Lange. Just before the award was given, rather than Clarke Energy talking about themselves, the company gave the customers the opportunity to feedback, compiling a video of them explaining their projects and history of working with Clarke Energy. The feedback couldn't be any better, here are some examples;
"Clarke Energy were impressive from day one. They went above and beyond expectations at every stage of the process. We have every confidence in our long-term O&M contract and building a relationship that goes beyond this project."
Henry Leivers, Project Director, IMERYS Minerals Ltd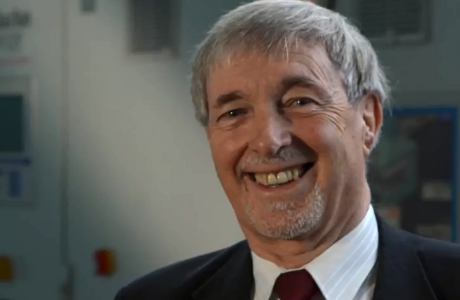 "The university's district heating scheme set the standard for other universities to follow. Our relationship spans some 20 years and is as strong now as it was in the beginning. The university's district heating scheme set the standard for other universities in Scotland to follow. Our relationship has been very much a partnership with Clarke Energy's expert design, project management and service capabilities, ensuring the super-efficient operation of the Jenbacher gas engines throughout the 19 years life span."
Peter Copeland, Engineering consultant, Dundee University. Clarke Energy's first natural gas CHP plant.
"The project and commissioning teams provide an excellent service. Responses to problems are tackled in a detailed and professional manner. For new developments, the project and commissioning teams provide an excellent service, to ensure that the installation and commissioning operations are handled correctly and to agreed timescales. Responses to problems are tackled in a detailed and professional manner – for instance, a very recent problem arose with a breaker at the commissioning stage at one of our new engines and a thorough investigation was carried out by Clarke Energy personnel, which has resulted in the commissioning process being brought on track. "
Ian Booth, Chief Executive Officer, Aberdeen Heat and Power Ltd.
Please see below the video of the evening and also the video of Clarke Energy's customer's feedback video.