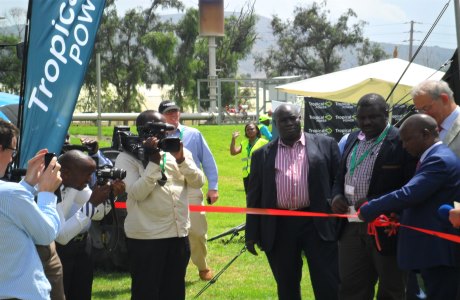 Tropical Power Energy Group (Tropical Power) opened Africa's first grid-connect Anaerobic Digester (AD) plant, part of the Gorge Farm Energy Park on 20th August, Naivasha, Kenya. GE was the launch partner for the event opening, with Clarke Energy attending. In 2016 construction will commence on a further 10MW of solar generation capacity.
The event was officiated by The Governor of Nakuru County, Kinuthia Mbugua. He says,
"The Gorge Farm Energy Park is a showcase project for Nakuru County, Kenya and the African continent. Distributed power projects are vital to our energy security, reliability and efficiency. And the Park will be using local crop waste and the sun to generate clean, renewable power close to the point of use.
"I look forward to working with Tropical Power, Kenya Power and the Ministry of Energy and Petroleum to see how we can develop more biogas projects for organic and municipal waste in the county."
The AD plant has been developed and will be operated by Tropical Power Ltd, on behalf of Biojoule Kenya, an Independent Power Producer (IPP). ERC are currently reviewing the PPA signed by Tropical Power and KPLC, as well as the Generation & Distribution license for the project.
GE was selected to deploy its Jenbacher gas engines provided by Clarke Energy for the first time in East Africa in a renewable energy project. GE's two J420 units are designed to operate at the farm's high altitude of nearly 2,000 meters above sea level.