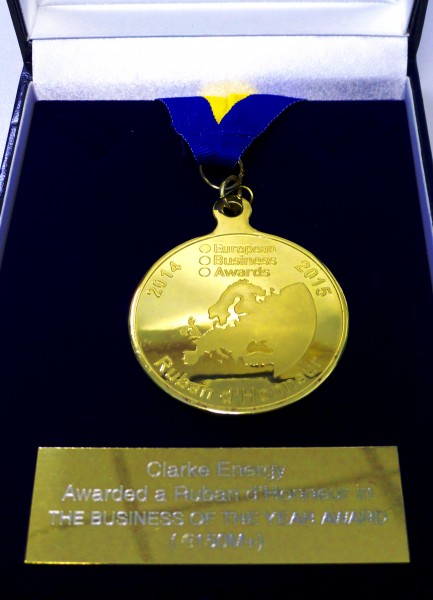 Since 2007, the European Business Awards has been shining a light on the most innovative businesses on the continent by promoting success, innovation and ethics in the European business community. Sponsored by RSM International; it is a prestigious competition supported by businesses leaders, academics, media and political representatives from across Europe.
After Clarke Energy being named 'National Champion' for the European Business Awards – Company of the Year >150million Euro Turnover in 2014, they were very hopeful for the gala this year.
Clarke Energy is a specialist in the engineering, installation and maintenance of high efficiency reciprocating engine power plants. The company has multinational operations in sixteen countries.
Clarke Energy's Alan Fletcher, Haydn Rees and Darren Smith attended the European Business Awards ceremony in London on the 26th of May. The company received a Ruban d'honneur from the judging committee and was a finalist of many hundreds of companies from across Europe.
For the voting process for the National Public Champion Award, in which many employees and suppliers participated, Haydn Rees was interviewed and the video was broadcast online were the public could cast their vote along with all the other competitors. Clarke Energy came 3rd out of 66 UK companies with over 800 votes. The winning company received 2,000 votes.
Jamie Clarke, CEO of Clarke Energy commented "With operations in the UK, France and Ireland we are extremely proud to reach the Ruban d'Honneur stage of the European Business Awards. The European Business Awards is recognised as the showcase for Europe's most dynamic companies. We are now looking forward to describing to the judges in more detail how we are achieving business success."
For more information on the Awards and its winners, please visit www.businessawardseurope.com.