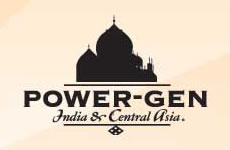 POWER-GEN India & Central Asia combines with HydroVision India and Renewable Energy World India to showcase state-of-the-art services and technologies across the entire thermal, renewable and hydro power sector, all under one roof. 19 – 21 APRIL 2012
For the 11th season, Power-Gen India & Central Asia returns as an established  event in the power industry. With the theme broadly encompassing:
Conventional  Power
Efficiency & Environment
Power Grid Technologies
POWER-GEN India & Central Asia presents  a gamut of industry professionals to witness 'Innovation & Change' alongwith the 'Best- Practices' being implemented.
A high-octane event which saw the presence of 300 exhibitors & more than 7,000  industry professionals representing 45 countries last year, it is poised to attract the elite  in the industry in the region's most notable conference & exhibition – Power-Gen India &  Central Asia 2012.
Please visit Clarke Energy at Booth No. 1111 @ Hall 11.
Power-Gen India & Central Asia 2012
11th SEASON @ PRAGATI MAIDAN,
NEW DELHI, INDIA,