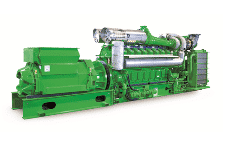 The Bolivar Wastewater Treatment Plant (WWTP) is the largest wastewater treatment plant in the Adelaide region, processing almost 70% of Adelaide's metropolitan wastewater. The South Australian Government has approved a $25.8 million project for SA Water to optimise the energy utilisation on the site. This project will provide a major upgrade to the WWTP power supply by the installation of onsite electricity generation fueled with the digester gas produced during the treatment plant process.  The reduction of greenhouse gas emissions and support for renewable energy projects are aligned with the State's strategic plan.
On the 28 May, 2012, Clarke Energy, one of the short listed tenderers, was awarded the contract to Design and Construct a fully operational turn-key gas to power cogeneration plant using GE Jenbacher gas engines and to fully integrate the electricity generated into the existing electrical infrastructure.
Clarke Energy's cogeneration power plant design provides three (3) GE Jenbacher high electrical efficient dual-fuel gas engines installed inside of the existing power house, each producing 2.4MWe.  The gas engines will operate either solely on digester gas or a blended mix with natural gas during times of low digester gas production.  The gas engines will also produce hot water to supply the heat to the plant digesters that is necessary to sustain the treatment process.  The low carbon emission electricity generated will result in a significant reduction in site greenhouse gas emissions of more than 11,000 tonnes per annum which is equivalent to reducing 2,200 motor vehicles on the road.
The project is due to be commissioned in July 2013 and be handed over to the facility's Operations and Maintenance alliance contractor, Allwater.  Once completed, the plant will generate up to 85% of the plant's annual electricity demand.  This means annual electricity savings of $1.3 million with a capital payback period estimated at eight years. Additionally, electricity market revenue of $0.7 million per annum will be earned and approximately $0.9 million worth of additional Renewable Energy Certificates (RECs) will be created each year.
Clarke Energy is a world leader in the engineering design, installation and long term maintenance of GE Jenbacher gas engines in the gas to power generation industry and operates in 11 countries with some 720 staff.  The core product, GE Jenbacher Gas Engines, has been exclusively distributed by Clarke Energy in Australia since 1999.  During this time over 230 gas engines have been installed in Australia and New Zealand for a variety of industries such as Mining, Water, Agriculture, Oil and Gas, Manufacturing and Combined Heat and Power (CHP) for commercial buildings.
Clarke Energy's Australian Head Office, located in Adelaide, employs in excess of 60 people locally with another 60+ across Australia and New Zealand servicing and installing the installed fleet.  Locally it also houses a parts warehouse which is extensively stocked to service the growing engine fleet of around 450MW in the country. Clarke Energy has extensive experience in the engineering. Commenting on the award, Clarke Energy's Minstallation and maintenance of gas generation facilities operating on sewage gas and other gases derived from biological sources.  Currently 27 such gas engines have been installed on BioGas totalling more than 30MWe of onsite power generation.
Managing Director, Greg Columbus said "as a local South Australian based business, we are proud to be working with SA Water bringing some International knowledge and class leading technology to South Australia for this Bolivar project. Projects such as this typifies the added value Clarke Energy bring to the GE Jenbacher product ensuring a sustainable long term solution for our customers long after the installation is completed.
GE Jenbacher is a leading gas engine manufacturer, producing high efficiency reciprocating gas engines ranging from 330kWe to 9.5MWe electrical output. The fundamental design of the Jenbacher engine for operation on gas provides numerous benefits. These include increased operational efficiency, greater reliability, reduced maintenance costs and enhanced capability to operate on gases with lower calorific value or unusual composition, such as digester/biogas, landfill gas, coal mine methane, flare gas, coke oven gas and syngas from gasification processes.
Clarke Energy's continued success is based on its capability to deliver SA Water's key objectives of optimising the utilisation of free digester gas, maximising the security of the energy supply, minimising the overall cost of electricity onsite while maximising CO2 emission reductions.
Additionally, the "value for money solution" offered coupled with its local capability and experience in delivering such similar turnkey projects were also considered as favourable.
The Bolivar WWTP is transforming SA Water into a more sustainable, efficient and environmentally friendly water utility.
To find out more contact our Australian operations here or via the details below.
Clarke Energy
Building 1
2-4 Stirling Street
Thebarton
Adelaide 5031
Australia
Tel: +61 (0)8 8290 2100
Fax: +61 (0)8 8443 5848
Follow us on twitter @clarkeenergy