Waste Management's Whitford Landfill Gas Power Station, New Zealand
Whitford landfill in New Zealand is operated by Waste Management, New Zealand. The landfill site produces landfill gas which is used as a fuel in the Clarke Energy installed GE Jenbacher gas engines. The resulting power generated from the landfill gas is considered to be renewable power and helps to reduce the carbon emissions in the local area. The site became operational in from 2002, with an expansion in 2004.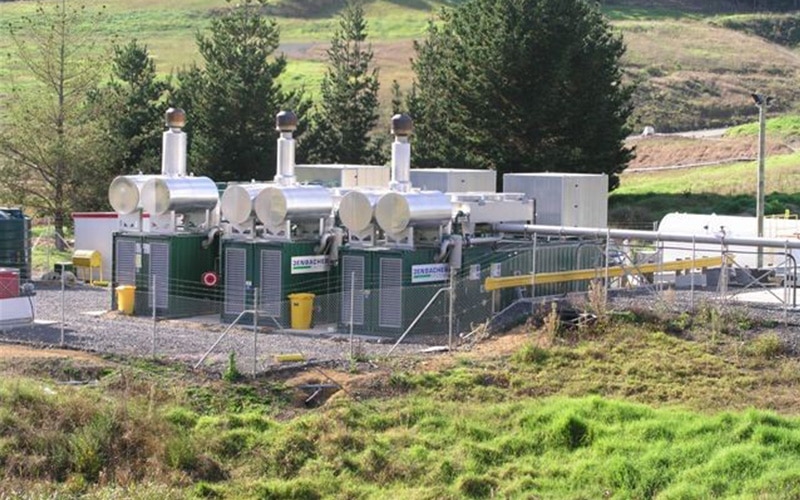 Gas Engine Operation & Maintenance
Utilising Clarke Energy's team of specialised GE Jenbacher gas engine engineers, Clarke Energy undertakes all scheduled and unscheduled maintenance on this site for Waste Management. The total availability of the engines, calculated by the client has been recorded at 97%.
The Landfill Gas Project
The total generation capacity on site is 3.16 MWe from 2 x GE Jenbacher JGC 320 rated at 1,048 kWe, 1 x GE Jenbacher JGC 320 rated at 1,065 kWe @ 50Hz. Engines are coupled to Stamford brushless rotating field alternators.
The 3 GE Jenbacher generators run on landfill gas with each generator connected, via an integrated 415V circuit panel, to an 11kV step-up transformer. High voltage electricity is exported to the grid from the transformers.
The generators are located in an acoustically lined 40ft standard ISO container that also houses the control room, with the dump radiator and exhaust silencers mounted on the roof. The Station can be remotely monitored and controlled utilising the GE Jenbacher Hermes system.