Dunlop Tyres Natural Gas Powered Generation Project: In 2002 the board and management of Dunlop Nigeria plc made a major policy decision to ensure they have reliable electrical power for their tyre manufacturing facility in Ikeja, Lagos. With the confidence gained during the past 12 years of Clarke Energy providing an unblemished service in the supply of spare parts and engineers for their aging diesel generators, Dunlop became the first company in Nigeria to own and operate a GE Jenbacher gas powered generator.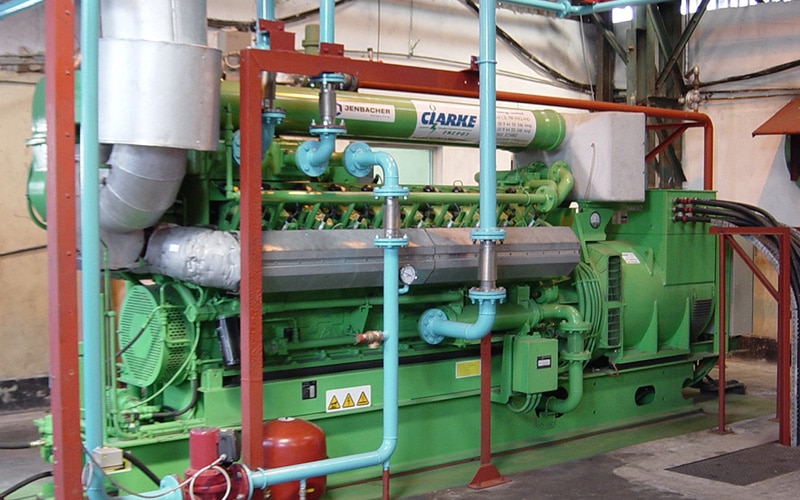 The gas powered GE Jenbacher reciprocating engine generator is the worldwide market leader in its class, well proven in India where they experience similar climatic conditions as Nigeria.
From the GE Jenbacher J320 generator, in addition to obtaining 1,006 kWe continuous reliable electricity supply to their Ikeja factory, Dunlop are also utilising 576kWt heat from the cooling and lubrication systems to increase the temperature of feed water to their gas boilers.
With the low cost of high quality natural gas, coupled to low maintenance costs, achieved through minimal maintenance requirements and lubricating oil changes every 2,000 hours compared to every 500 hours on similar diesel generators, and medium overhauls every 30,000 hours (so not applicable until the fourth year of operation), Dunlop calculate their GE Jenbacher generator will give them a pay back in just 15 months.
Clarke Energy, through the GE Jenbacher gas generator, now offer the industries of Nigeria the ultimate in power generation, electricity, heat and cooling through absorption chillers.
In the late 2000's the Dunlop Tyre Factory closed in Lagos, however the gas engine generator was still well within its operational life. In 2010 the generator was moved to the nearby Woolen & Synthetic Textile Manufacturing Company where it operates to this day.