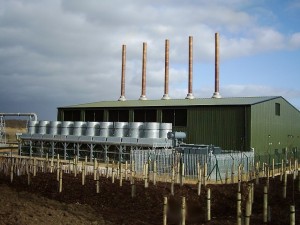 Shanks Waste Solutions, part of Shanks Group plc., one of Europe's largest independent waste management companies, is pleased to announce with Clarke Energy Limited, the UK energy turnkey supplier, the signing of a contract to install an electricity generating station, using landfill gas, of approximately 12MW at Shanks Calvert Landfill Site near Milton Keynes.
Clarke Energy is to construct the buildings and install five 2.4 MW Jenbacher 6 series 20 cylinder gas engines, with a prospect of a further engine to be installed in due course as capacity allows. Apart from the gas extraction plant and final electrical connection, the responsibility for Clarke Energy is to deliver a full turnkey operation upon which construction has commenced, with a view to electrical generation commencing before Christmas 2002, and handover of the complete project early in 2003.
John Fletcher Senior Project Manager at Clarke Energy says "this further demonstrates Clarke Energy's expertise in turnkey power engineering solutions in this important UK renewable energy sector". Ian Davis Managing Director for Clarke Energy says "we are delighted to undertake this business for Shanks against strong competition, and we hope this contract represents the start of a strong working relationship with this important customer."
Paul Andrews Director of Power Generation at Shanks Waste Solutions has been pleased to confirm that this contract was won against the strongest competition, which reflects well upon Clarke Energy in delivering a turnkey proposition, and the quality of the Jenbacher gas engine which is unsurpassed in landfill gas applications.