Jenbacher Gas Engines
INNIO's Jenbacher gas engines are available in the 0.3-10.0MW electrical output range for an individual generating set. Jenbacher gas engines are renowned for robust performance in challenging conditions and difficult fuel gases. Jenbacher gas engines are manufactured in the town of Jenbach, Austria in the Tyrol. The Jenbacher gas engine is designed from to run solely on different types of gas, and for different types of applications. Jenbacher has led the way in gas engine innovation over the last 50 years with developments including:
The LEANOX control philosophy
The world's first 20-cylinder gas engine
The world's first 24-cylinder gas engine
The world's first twin-turbocharger gas engine
The high-efficiency 4-series concept
MyPlant® remote monitoring and diagnostics software
This focus on gaseous fuels leads to the highest levels of generator efficiency and reliability on the market. The engine has been developed into variants which are suitable for a wide range of different applications including natural gas, biogas, coal seam gases and associated petroleum gas. Over five decades of experience in the gas engine business has resulted in thousands of Jenbacher engines being installed worldwide.
Electrical Output Range
The gas engine generators cover an electrical output range from 249 to 10,000kW:
Gas Engine Basics
The image below shows the basics of a stationary gas engine and generator used for the production of power. It consists of four main components – the engine which is fueled by different gases. Once the gas is burnt in the cylinders of the engine, the force turns a crank shaft within the engine. The crank shaft turns an alternator which results in the generation of electricity. Heat from the combustion process is released from the cylinders.  This must be either recovered and used in a combined heat and power configuration or dissipated via dump radiators located close to the engine. Finally, and importantly there are advanced control systems to facilitate robust performance of the generator.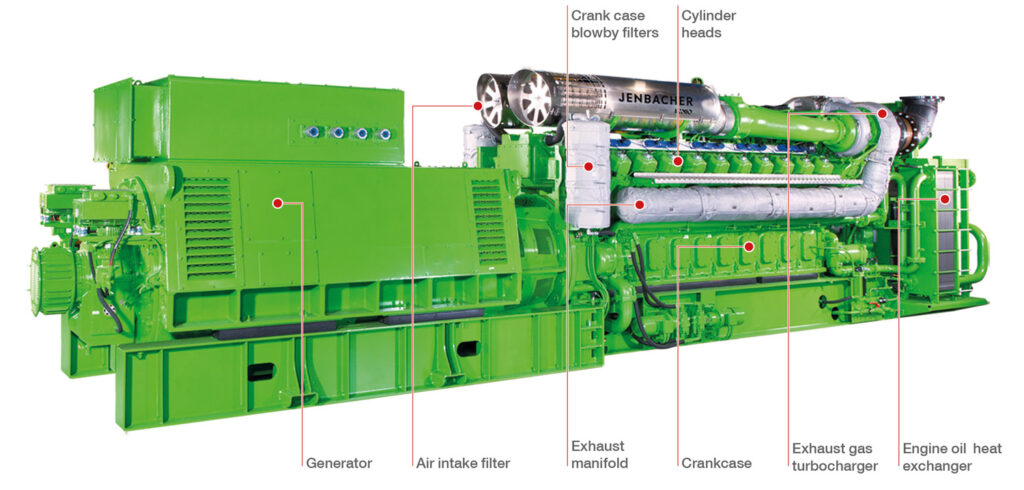 Power Production
Jenbacher gas engines can be configured to produce:
Gas engines are typically applied as stationary continuous generation units but can also operate as peaking plants and in greenhouses to meet fluctuations in local electricity demand or supply. They can produce electricity in parallel with the local electricity grid, in island mode operation, or for power generation in remote areas.
Gas Engine Energy Balance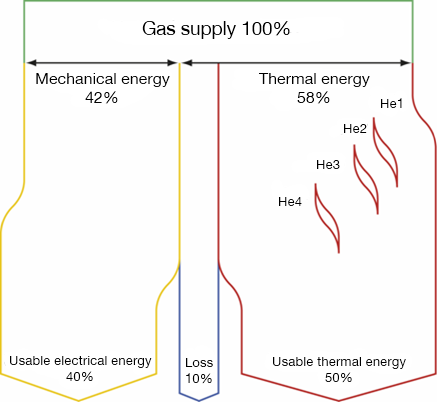 Efficiency and Reliability
The efficiency of up to 49.9% of Jenbacher engines results in outstanding fuel economy and in parallel the highest levels of environmental performance. The engines have also proved to be highly reliable and durable in all types of applications, particularly when used for natural gas and biological gas applications. Jenbacher generators are renowned for being able to constantly generate the rated output even with variable gas conditions.
The patented LEANOX® lean burn combustion control system fitted on all Jenbacher engines guarantees the correct air/fuel ratio under all operating conditions in order to minimize exhaust gas emissions whilst maintaining stable operation. In combination with the LEANOX® system the Jenbacher gas mixer balances out fluctuations in calorific value, which occurs mainly in biological gas applications. Jenbacher engines are not only renowned for being able to operate on gases with extremely low calorific value, low methane number and hence degree of knock, but also gases with a very high calorific value.
Possible gas sources vary from low calorific gas produced in steel manufacture, chemical industries, wood gas, and pyrolysis gas produced from decomposition of substances by heat (gasification), landfill gas, sewage gas, natural gas, propane and butane which have a very high calorific value. One of the most important properties regarding use of gas in an engine is the knock resistance rated according to the 'methane number'. High knock resistance pure methane has a methane number of 100. In contrast to this, butane has a number of 10 and hydrogen 0 which is at the bottom of the scale and therefore has a low resistance to knocking. The high efficiency of the Jenbacher engines becomes particularly beneficial when used in a CHP (combined heat and power) or tri-generation application, such as district heating schemes, hospitals, universities or industrial plants. With governmental pressure mounting on companies and organisations to reduce their carbon footprint the efficiencies and energy returns from CHP and trigeneration installations have proven to be the energy resource of choice.
| | |
| --- | --- |
| | Find the latest information and product fact sheets on INNIO's Jenbacher here. |