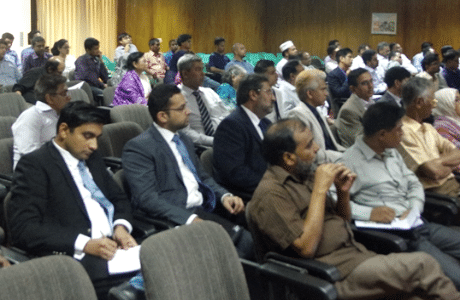 A seminar was held on the topic of the "Status and Prospect of Commercial Biogas in Bangladesh" at IFRD auditorium, Bangladesh Council of Scientific and Industrial Research (BCSIR), Dhaka, Bangladesh on June 26, 2016 at 2pm. The seminar was organised by the Bangladesh Biogas Development Foundation (BBDF) to share their current status and the potential for commercial biogas in Bangladesh. The seminar was chaired by the president of the Foundation M.A. Gofran and the study reports and statements were presented from several organisations and member of BBDF. They announced that there are about 90 thousand domestic biogas plants and 300 commercial plants in the country and only 5% of the gas is used for industrial purposes, comes from commercial biogas plants. The village community has found success through the production and use of commercial biogas plants. Power generation and some vehicles are being run by biogas produced by a commercial anaerobic digestion facility.
The chief guest at the seminar, Prime Minister's Energy Advisor Tawfiq-e-Elahi Chowdhury said:
"After independence, the country began producing biogas, but so far it could not be developed as far as technical and commercial concern."
There are huge opportunities to produce commercial biogas, because resources such as municipal waste, sewage, poultry, dairy firm, corn maize and other biodegradable materials are available in Bangladesh. Anwarul Islam Sikder, Chairman of Sustainable and Renewable Energy Development, Nazrul Islam, Chairman of BCSIR, Abdul Matin, General Director of Rural Development Academy, Bogra, spoke at the Seminar. In the seminar Mr. Vinayak Jadhav,
Deputy General Manager of Sales from Clarke Energy's Indian operations presented a PowerPoint presentation regarding the "Status of commercial Biogas in India for Power Generation." Nachiket Bhishikar (Managing Director), Abdul Haroon (Sales Director), Rashedul Bhuiyan (Sales Manager), Md. Aktarujjaman (Jr. Marketing Executive) from Clarke Energy's Bangladesh operations and Punit Garg (Managing Director) from Clarke Energy in India also attended the seminar.