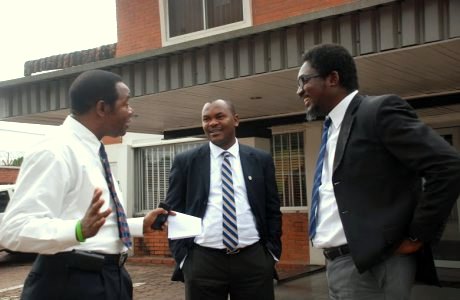 LAGOS, NIGERIA, Engr. Ademola Olorunfemi President of the Nigerian Society of Engineers visited Clarke Energy's newly refurbished offices in Lagos today.
Ademola Olorunfemi President of the Nigerian Society of Engineers visits Clarke Energy' operations in Lagos
Clarke Energy has encouraged all its service engineers to join the prestigious Nigerian Society of Engineers
Clarke Energy's Nigerian headquarters are located in Ikeja Government Residential Area in the city of Lagos. The building was recently comprehensively renovated and features cutting edge facilities for the support of gas and diesel fuelled power plants. The building is the main base of the companies Nigerian operations which also has a branch office in Port Harcourt.
Engr. Ademola Olorunfemi FNSE, FNIAE, MIAgrE UK, MASABE, MEurAgEng, MNIM, President of the Nigerian Society of Engineers visited Clarke Energy's operations in Ikeja GRA on the 18th of August. He was greeted by Patrick Nzekwe, General Manager of Clarke Energy's Nigerian operations.
Ademola Olorunfemi commented
'Clarke Energy's modern facilities in Lagos are staffed with highly trained Nigerian engineering staff. The company has delivered a large proportion of gas-based power generation equipment in Nigeria which delivers reliable supplies of power to their customer base'
Patrick Nzekwe from Clarke Energy stated
'We were honoured to be visited by President Olorunfemi. The visit by this esteemed Nigerian engineer is testament to the success and progress Clarke Energy has made in the supply of reliable, gas-fuelled power generation equipment in Nigeria.
About Clarke Energy
Clarke Energy is a leader in the engineering design, installation and long term maintenance of gas and diesel engine-based power plants. The company is authorised distributor and service provider for GE's Jenbacher gas engines in 17 countries. Clarke Energy employs over 1,000 staff and has over 4,600MW of Jenbacher generation equipment operating in its operational areas.
Clarke Energy in Nigeria
Clarke Energy has been operating in Nigeria since 2006 and is the leading supplier of gas engines to captive power plants and independent power producers in the country. The company has an installed base of approximately 300MW of power plants in the country helping deliver stable supplies of power to industry. Clarke Energy employs over 80 people in their Nigerian operations with a policy of localisation – training local people to high international standards. Clarke Energy won the African Order of Merit for Gas-Fuelled
Power Generation facilities in 2013 and was short-listed for two awards at the recent West Africa Power Industry Awards in Lagos in 2014.
About GE's gas engines portfolio
GE is a gas engine manufacturer, producing high efficiency reciprocating gas engines ranging from 330 kWe to 9.5MWe electrical output. The fundamental design of GE's Jenbacher gas engines for operation on gas provides numerous benefits. These include increased operational efficiency, greater reliability, reduced maintenance costs and enhanced capability to operate on gases with lower calorific value or unusual composition, such as coal seam and coal mine methane gas, biogas, landfill gas, flare gas, coke oven gas and syngas from gasification processes.