Whether you're captaining a whale watching tourism vessel or a sportfisher super yacht, no matter the vessel you sail or command, KOHLER keeps you powered and on course.
Clarke Energy's Kohler Marine Channel Partner TransDiesel in Auckland, New Zealand, recently completed the sale and delivery of two Kohler 20.5EFKOZD engines to Whanganui based boat builders Q-West, and has processed an order for two Kohler 80EFOZDJ engines for Yachting Developments, an award-winning builder of composite yachts.
Energising Whale Watching in Whanganui
The Q-West order for the two Kohler 20.5EFKOZD was placed and delivered within 20 weeks, with the generators arriving in Whanganui in late 2021 – a great outcome in the current pandemic climate.  The engines will be used in Whale Watch Kaikōura's next waka[1], being built by Q-West.
TransDiesel previously supplied two Kohler 20.5EFKOZD marine gensets on Whale Watch Kaikōura's waka Te Ao Marama last year. Te Ao Marama has been so successful for Whale Watch Kaikōura, that they have now commissioned a sister boat.

Scott McAlpine, Technical Support and Marine Products Manager with TransDiesel says:
"Moving to a bigger vessel has paid dividends for Whale Watch Kaikōura. Historically their boats have been smaller, with smaller power plants and smaller power generation. Te Ao Marama is a game changer for the future of whale watching, which contributes strongly to the growth of the business and the local economy.  This new vessel will allow for even greater expansion."
Roger Williams, Manager of Whale Watch Kaikōura says:
"I can't speak highly enough of the increase in capacity that Te Ao Marama has provided.  We are very excited about introducing a sister vessel to the fleet.  Our partnership with TransDiesel has facilitated that seamlessly and we have the confidence of their ongoing support."
Chris Leane, Clarke Energy's Kohler Channel Partner Manager says:
"Clarke Energy congratulates TransDiesel on their long and successful association with Q-West and Whale Watch Kaikōura. The fact that Kohler products are the preferred power generation for this high profile tourism operation is a fantastic accomplishment for TransDiesel."
Powering Up Sportfisher Super Yachts in Auckland
TransDiesel will also supply two Kohler 80EFOZDJ to Yachting Developments, which will be installed on a 34 metre sportfisher super yacht!
If you're wondering what a 34 metre sportfisher looks like, check out Al Duhail. Al Duhail was built by Yachting Developments and launched in Auckland in January 2020 before commencing its voyage to its home port in Doha.
This next Yachting Development project will be very similar, drawing on Yachting Developments expertise and experience with sportfisher yacht construction.  The two Kohler 80EFOZDJ engines are due for delivery in April 2022.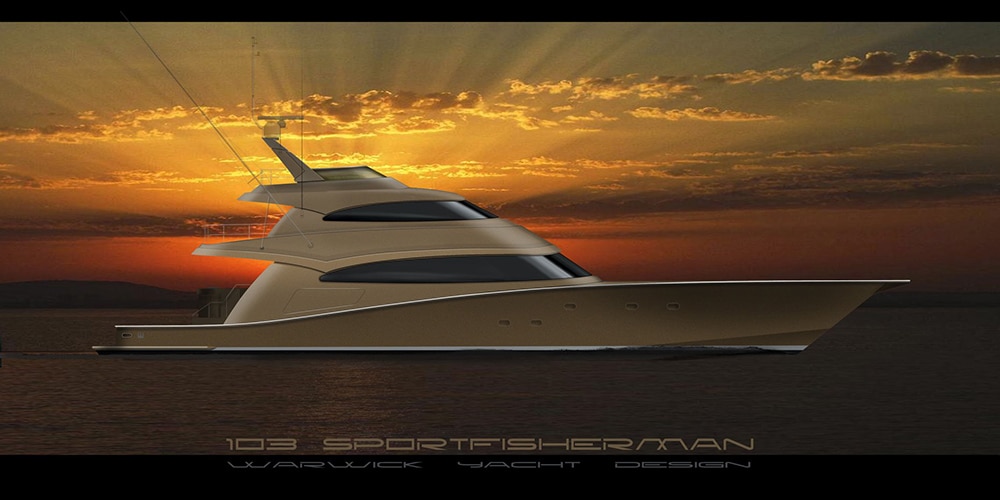 TransDiesel's Scott McAlpine says:
"a sportfisher of this calibre can take 18 months to two years to build and promises to share more information and photos on this project as it evolves.  We can't wait! "
Chris Leane commented:
"Clarke Energy, as one of the leaders in power generation within the South Pacific, has a dedicated team to support Kohler Product. Our Adelaide based team are committed to assisting and supporting our channel partners, like TransDiesel, especially in these unprecedented times.  We want to ensure that they have access to products, support with supply chain logistics and the training and education needed so that they can continue their successes – just like these projects."
If you're looking for reliable marine power – look no further.  Kohler has been powering people and projects in every corner of the globe since 1920 with its:
Proven Reliability – Every KOHLER marine generator is extensively quality-tested—before model release and before leaving the factory. The result is proven reliability.
Premium Limited Warranty – For commercial generators, we cover the first year, with the option to extend to three years. For pleasure craft generators, we cover the first two years, with the option to purchase additional years.
Global Support – With nearly 1,000 sales and service locations around the world, we're everywhere you go.
Contact Us today
Clarke Energy is a proud Kohler Company with Channel Partners right across the Asia-Pacific region.
Contact Clarke Energy today to find out more about how we can help you or visit our website to locate a Channel Partner.
[1] Waka is a traditional Maori word for canoe