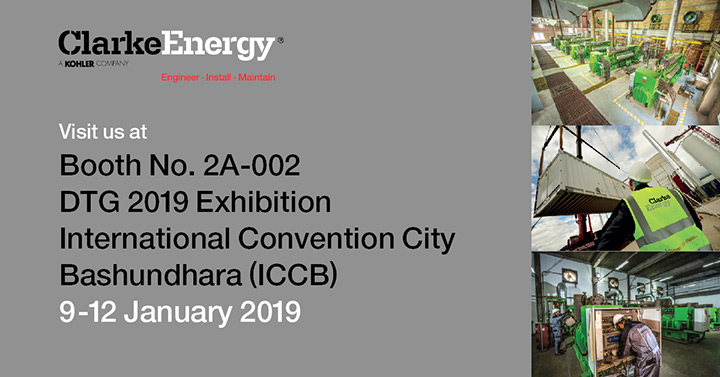 Clarke Energy will be exhibiting at the 16th Dhaka International Textile & Garment Machinery Exhibition 2019 (DTG) from the 9th to 12th January. The event is held at the International Convention City Bashundhara (ICCB) in Dhaka, Bangladesh.
Against the backdrop of depleting scenario of discovered gas reserve, Bangladesh has started importing LNG. Contracts have been signed and MOUs initiated with companies for setting up FSRUs and land based terminals. Bangladesh has already entered into long term contracts with both, Qatar and Oman for import of LNG into the country. As far as the use of LNG is concerned, Bangladesh is well positioned having extensive gas transmission networks and existing demand centres in the form of industrial users viz. textile, leather, food & beverage, fertilizer and pharmaceutical. It is anticipated that depending upon the availability of RLNG, massive industrial development would happen in the 100 economic zones announced by GOB. In unison, the fuel mix for power generation may also be revised, reducing focus on imported coal. In all probability with both, RLNG and domestic natural gas flowing in the system, weighted average cost would be taken into consideration and the industry will have to incur higher cost for natural gas. In addition to implementing cogeneration / trigeneration solutions resulting in increase of overall efficiency of the plant; total cost of ownership (TCO) concepts will gain importance.
Clarke Energy operating in Bangladesh since 2013, has an installed Jenbacher gas engine fleet of over 1.2 gigawatt in the country, primarily used as captive power plants for industry and for independent power producers.
To find out more about the Jenbacher gas engine product range, salient features, benefits and services from Clarke Energy in Bangladesh related to CHP / CCHP solutions, visit us at Hall 2A, Booth 002