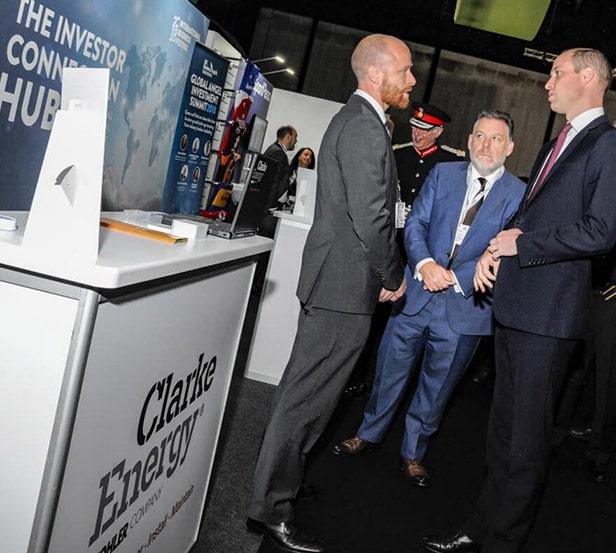 Clarke Energy was recently one of the official sponsors of the International Business Festival 2018 (IBF), the event was structured around nine unique days based on high growth industries and Clarke Energy were the main sponsor for the Sustainable Energy Day. As Clarke Energy are one of a select group of companies, chosen by the Department for International Trade, to act as an Export Champion for the Northern Powerhouse the IBF was an excellent business opportunity to share our international success stories in export at the festival, hosted every 2 years in our home city of Liverpool.
During the Future Transport Day, The Duke of Cambridge, Prince William, visited the Clarke Energy stand and spent time with Jamie Clarke, CEO of Clarke Energy to discuss the gas to power generation and hybrid solutions we provide. Jamie explained the Prince had been impressed by our international performance. "He picked up that more than two-thirds of our business is outside the UK and was asking about our involvement in the festival. We said the value for us at the event was the international audience because we operate in 25 countries."
Alex Marshall, Group Marketing and Compliance Director for Clarke Energy had a busy schedule during the first week and had been invited to speak at a number of events. At the opening event – the World Forum for Foreign Direct Investment – he participated on a panel with international guests discussing the Future of Energy and Responsible Development. During the Sustainable Energy day Alex joined a second panel on the main conference stage considering how we can become a greener world using renewable energy. Alex highlighted the growth of Clarke Energy, the position within the wide Kohler group and job opportunities in the power engineering sector. Alex also spoke about Power and Energy Infrastructure Opportunities in Africa during the Africa Trade Conference, arranged by the Cote d'Ivoire Chamber in Great Britain. Clarke Energy has recently supplied its first hybrid power plant solution in Africa using gas engines and storage, delivered to a plastic bottling facility in Nigeria, demonstrating engineering capabilities to deliver microgrid projects. Alex finished his commitments on the main stage at the event by delivering a Distributed Power Generation Masterclass with Clarke Energy which looked into developments in distributed energy, including latest developments in technology and case studies.