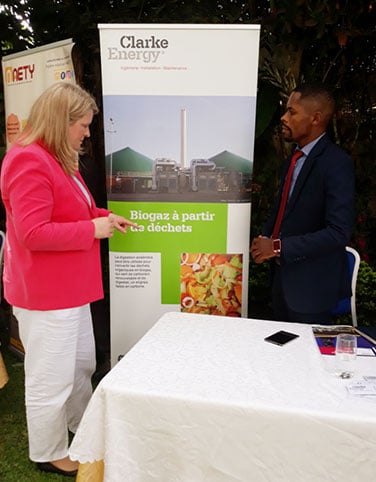 Clarke Energy's Cameroon operation participated in a Commonwealth Business fair in Yaounde on the 12th of April 2018, organised by the British High Commissioner to Cameroon HE. Rowan Laxton. The event came as a prelude to the Commonwealth Business Forum to take place in London from April 16, 2018.
The event which was heavily attended by UK multinational companies based in Cameroon and government officials was an avenue to exchange thoughts, networking and to showcase the continued contribution made by British businesses in Cameroon towards a common future of prosperity.
The High Commissioner in his opening address highlighted the key issues which will be discussed in this year's Commonwealth Business Forum on the theme 'towards a common future' with focus on six key areas:
1. Creating a new attitude to sustainable business
2. Accessing modern financial services
3. Harnessing Commonwealth technology and innovation
4. Easing the pathway for business and growth
5. Harnessing Commonwealth technology and innovation
6. Mobilising an export economy and attracting inward investment
The West Africa Director of Trade, Kate Rudd was also present at the event and encouraged participants to take advantage on Commonwealth shared values to increase intra–commonwealth trade in the continent, citing Clarke Energy as already doing a fantastic job in the energy domain.