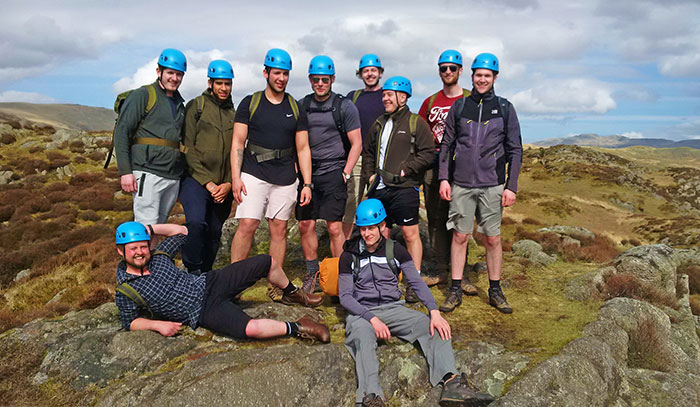 On 16th – 20th April 2018, Clarke Energy sent our 11 Field Service Apprentices and John Golden, Technical Trainer up to Eskdale in the Lake District to attend an Apprentice Development Programme. Working with the Outward Bound Trust, we put together an intense, action centred, challenging and adventurous programme to explore capabilities applicable to the work environment. The group had different tasks throughout the week but for two nights they experienced wild camping in the heart of the Lake District National Park. After a 5KM walk with full expedition kit, the team had to set up camp for the first night. During the trip, the group walked up Scafell Pike in inclement weather. Their mental and physical strength was pushed to the limit during this climb, after already being tested due to the days previous activities. They decided as a group to share the rucksacks and to constantly share the load, showing care and consideration and were very patient with each other.
The Apprentices are very strong technically so this programme is aimed to develop their less technical skills that they need in order to relate well with others as well as their personal work ethos. The Clarke Energy behavioural competency framework was central to the programme, and the company values (Quality, Integrity, Reliability and Accountability) underpinned every task and activity undertaken, which is sounds like it definitely did.
We continue to receive excellent feedback each year from Outward Bound on how much they enjoy having our Apprentices there and how every year they push themselves to their limits and always give 100% into everything asked of them. Well done to everyone who participated!