Gas to Energy Power Solutions – GE's Jenbacher gas engine technology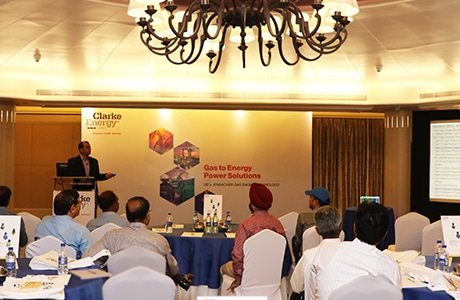 The "Gas to Energy Power Solutions" workshop, 18th May 2017, was conducted by Clarke Energy's Indian operations and GE Power for the benefit of its customers and various key stakeholders.  The New Delhi Workshop's focus was to disseminate information on the capabilities of both, GE Power as a technology provider and Clarke Energy as a solution provider. Emphasising the benefits the industry participants could gain by using the combination of GE Power and Clarke Energy on their gas to power needs.
Key Speakers
Mr. Punit Garg, Managing Director of Clarke Energy's Indian operations shared information on the recent acquisition of Clarke Energy by the Kohler Company, USA and how it complements Kohler's existing diesel generator offering. Highlighting Clarke Energy's end-to-end capabilities on gas based power plants and sharing the current challenges being faced in the country today by gas engine service providers.
Clarke Energy representatives also shared information on the organisational structure prevailing in India, its core competencies and few of the signature projects including waste-to-energy.
Presentations by subject matter experts from GE Power shared information and insights on topics such as Jenbacher product range, benefits of using the technology, efficiency enhancement program implemented on Type 6 engines, and the newly launched Type 9 engine.  Attendees were provided with information for the CMU (conversions, modifications and upgrades) options available on existing gas gensets, benefits of using them and also the newly launched asset performance management tool – "myPlant".
"Clarke Energy has presence in 25 countries, operating for more than 27 years having gained experience and expertise in providing gas based power solutions, we at Clarke Energy in India are working hand-in-hand with our customers to address their needs, while partnering in their growth by providing them with the world class technology and service," said Mr. Punit Garg, Managing Director for Clarke Energy India Private Limited.
Clarke Energy India
Working from our headquarters in Pune (State of Maharashtra), with dedicated offices spread across the country we offer sales & marketing, engineering and system integration (including erection, installation & commissioning).  We combine this with an after-sales-service offering, operation and maintenance, supply of spare parts, remote monitoring, undertaking upgrades, providing extensive training sessions and knowledge sharing.
In India, using GE's Jenbacher gas engine technology, we today have an installed base of over 418MWe. In addition, we also have around 236 of GE's Waukesha gas engines serving the mechanical drive need of customers in India.