Clarke Energy participated in the 14th Papua New Guinea (PNG) Mining and Petroleum Investment Conference in Sydney Hilton Hotel from 5th December to 7th December.
Mining and petroleum companies have faced difficult times since 2013 with sharply lower commodity prices and the El Nino drought affecting several operations such as Ok Tedi. This is reminiscent of the sectors' difficulties in 1997 when the industry faced a steep decline. But despite this, overall the conference was a resounding success for Clarke Energy, generating a good amount of solid potential customers and interest.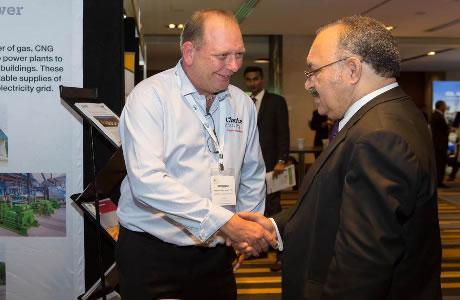 Not only did Clarke Energy prosper from the conference they also managed to have PNG's Prime Minister, Peter O'Neill visit their booth.
Clarke Energy formally launched its business in PNG on 12th October this year at the British High Commissioner's Residence in Port Moresby, where the brand new office is located. Philip Miscandlon, the newly appointed PNG Sales Manager is overseeing business in PNG. Philip is a great asset for Clarke Energy with his extensive experience of the business environment in PNG and the wider South Pacific.
The Mining and Petroleum sector in PNG maintains a positive outlook with several world class projects planned to start in the near to medium term.
Clarke Energy looks forward to taking part in the conference again next year and is delighted that they had the opportunity to expose PNG's Prime Minister Peter O'Neill to the business.