Oldest UK Hospital, Latest Technology: Barts Health NHS Trust Deploys Modern Trigeneration System from Clarke Energy and GE
Clarke Energy to Supply Skanska with Trigeneration System to Drive Hospital's New Combined Cooling, Heating and Power Energy Centre in London
First Fully Financed PFI Variation of its Kind, Delivered by Skanska
Facility Features GE's 1. 4-MW Jenbacher Gas Engine as a Core Component
Project to Improve Hospital's Overall Power Generation Resilience, Helping Reduce Fuel Costs and Carbon Emissions
LONDON—September 2015—Marking a new phase in boosting London's energy security and helping reduce the area's emissions, Barts Health NHS Trust, through Skanska – one of the world's leading project development and construction groups – has contracted with Clarke Energy to install a combined cooling, heat and power (CCHP) plant powered by a Jenbacher gas engine from GE Power & Water (NYSE: GE).
Funded by Sustainable Development Capital LLP (SDCL), the on-site trigeneration project at Europe's oldest hospital is the first of its kind under a strategic collaboration between SDCL, Clarke Energy, GE and the NHS Confederation. The initiative is part of SDCL's "Powering Health" collaboration to deliver lower-carbon, fully funded CCHP solutions to NHS Trusts, including those that are part of a private finance initiative (PFI) structure.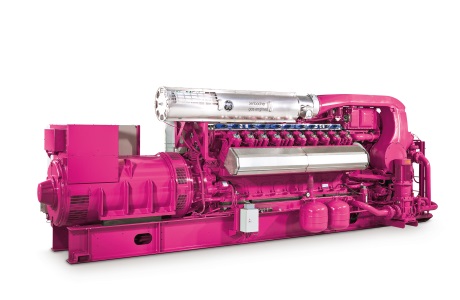 Clarke Energy will provide Skanska with an Ecomagination-approved 1.4 megawatt J420 Jenbacher hospital CHP unit that will provide electricity and heat; a 250 kilowatt absorption chiller delivering cooling water for the hospital; and balance of plant equipment. The system will be installed to create a new energy centre at the hospital to increase energy efficiency, reliability and durability and also increase financial savings.
Fiona Daly, Environmental Manager, from Barts Health NHS Trust said, "We are delighted to be installing this CCHP plant to help us boost energy reliability and reduce our energy costs and carbon emissions. The reason for selecting Clarke Energy is due to the reduced environmental impact of GE's reciprocating engines, which is backed by Clarke Energy's excellent services support. This collaboration highlights numerous energy-efficiency opportunities throughout the NHS and other power-intensive industries."
"With the Barts Health NHS Trust project, we are excited to continue our work with our authorised sales and service provider Clarke Energy to provide Jenbacher gas engine technology to help the NHS increase the energy security of local hospitals while helping reduce their emissions by up to 25 percent or avoid up to 1,537 metric tonnes, which is the equivalent of more than 750 cars in Europe," said Leon van Vuuren, general manager for GE's Jenbacher gas engines.
Richard Byers, Skanska's Head of green business, said: "This installation will enable Barts NHS Trust to generate reliable onsite power in the form of electricity, heat and cooling. In parallel, the hospital will be able to divert spending on energy to boost spending on cancer research."
Haydn Rees, managing director of Clarke Energy, said: "The main motive for installing a CCHP plant was to modernise the aging energy and heat supply system, improve the hospital's overall power generation resilience and reducing the environmental impact. If there is ever a natural disaster or interruption of power, Barts Health NHS Trust will be able to endure these external challenges due to the reliability of GE's gas engine cogeneration technology and the Clarke Energy's equipment and services."
GE is seeing strong demand for its Ecomagination approved Jenbacher cogeneration technology from a number of U.K. hospitals and other facilities seeking more secure, cleaner on-site energy. Upon completion of the project, Clarke Energy will have more than 50 MW of installed cogeneration capacity with NHS. Internationally, Clarke Energy has a total of 121 MW installed hospital cogeneration and tri-generation capacity.
Based in the UK, Clarke Energy is a longtime authorised sales and services provider for GE's reciprocating engines in key regions, including the UK, France, Australia, Nigeria and India. Clarke Energy also recently was selected as GE's first diesel engine sales and services provider for Australia, Nigeria and India.
Founded in 2005, ecomagination is the company's commitment to technology solutions that save money and reduce environmental impact for its customers and GE's own operations.
About Clarke Energy
Clarke Energy is a leader in the engineering design, installation and long-term maintenance of gas engine-based power plants. The company is the authorised distributor and service provider for GE's Jenbacher gas engines in 17 countries. Clarke Energy employs over 1,000 staff and has over 4,600 MW of Jenbacher generation equipment installed in its operational areas.
Follow Clarke Energy on Twitter @ClarkeEnergy and on LinkedIn or Facebook.
About GE
GE (NYSE: GE) imagines things others don't, builds things others can't and delivers outcomes that make the world work better. GE brings together the physical and digital worlds in ways no other company can. In its labs and factories and on the ground with customers, GE is inventing the next industrial era to move, power, build and cure the world. www.ge.com
About GE Power & Water
GE Power & Water provides customers with a broad array of power generation, energy delivery and water process technologies to solve their challenges locally. Power & Water works in all areas of the energy industry including renewable resources such as wind and solar, biogas and alternative fuels; and coal, oil, natural gas and nuclear energy. The business also develops advanced technologies to help solve the world's most complex challenges related to water availability and quality. Power & Water's six business units include Distributed Power, Nuclear Energy, Power Generation Products, Power Generation Services, Renewable Energy and Water & Process Technologies. Headquartered in Schenectady, N.Y., Power & Water is GE's largest industrial business.
Follow GE Power & Water on Twitter @GE_PowerWater and on LinkedIn.