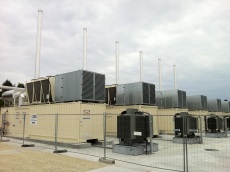 Plessis-Gassot, June 10 2014_ Electr'od demonstrates the principle of circular economy. The system transforms non-recyclable waste from municipalities and commercial operations into renewable energy (electricity and heat) which is then re-used by those same local citizens and companies. Developed by Veolia, in cooperation with Dalkia and Clarke Energy, Electr'od was launched today by Bernard Harambillet, CEO of Veolia Propreté France, François Habègre, CEO of Dalkia France, and Didier Lartigue, CEO of Clarke Energy.
The system that produces the most renewable energy in France through the use of landfill gas
Electr'od, the system that is running on the non-hazardous waste disposal site (ISDND) of Plessis-Gassot (95), captures the landfill gas produced by the non-recyclable waste[1] and transforms it into renewable power. Electr'od produces 130,000 MWh/year of electricity, which is the equivalent of powering more than 41,200 households (excluding heating). This corresponds to the electricity produced each year by 40 wind turbines. The power is sold to ERDF and used by individuals and companies in the local area.
Pioneering in France : Landfill gas utilised for district heating
Electr'od operates in a cogeneration (CHP) configuration, simultaneously producing 30,000 MWh/year of thermal energy, which is similar to heating around 2,850 households. This thermal energy feeds a newly developed district heating network in the municipality of Plessis-Gassot (95), which has the purpose to deliver heating and clean hot water to homes and shared facilities (town hall, community center, church, municipal building). This is the first time in France that a town is being heated by energy that is recovered from landfill gas. The inhabitants of Plessis-Gassot who are connected to the network supplied by Electr'od, will see their heating bills fall by 92% (compared to electric heating).
Electr'od, the new standard for a booming industry: Anaerobic Digestion (AD)
Electr'od can be installed on other sites that produce biogas. These could be sites that treat household waste [2], or agricultural waste [3], but also at industrial and urban wastewater treatment plants. In the context of the national drive to develop biogas, Electr'od has established itself as a major innovation for the entire industry.
Electr'od : performance and efficiency unique in France
10 GE's Jenbacher gas engines, with a total power of 17 MWe (most powerful installation in France in the landfill gas industry).
100 million m3 of landfill gas [4] treated / year (most effective installation in France).
€16.5 million: investment budget.
[1] The waste will be put in digesters where micro organisms in the absence of oxygen, produce biogas. This is the natural process of anaerobic digestion (AD).
[2] The Grenelle de l'environnement (Grenelle Environment Round Table) set a goal of reclaiming 45% of organic materials by 2020.
[3] The Ministry of Agriculture is encouraging their development by means of the EMAA plan, which calls for 1000 agricultural AD plants by 2020.
[4] Equivalent to almost 300 times Paris' Montparnasse Tower[4].