At Clarke Energy, we understand that the reliability of your equipment is paramount to ensuring optimum operation and, most importantly, reducing maintenance "down time". To maintain our ongoing commitment of providing the highest level of after-sales assistance, we support our partners with Marine Technical Training.
Our specialised training programs have been designed to meet the requirements of engine and controller configurations, delivering quality outcomes for organisations.
Catering for all levels of service technicians, from beginners through to highly experienced personnel, our training modules provide technical expertise and knowledge sharing within organisations for greater product and technical knowledge, ensuring improved operating efficiency and greater safety for operators.
Clarke Energy's South Pacific Kohler Technical Support Manager, Ty Martin, recently delivered training which combined both theoretical and practical components to one of our Marine channel partners, Aqua Power Marine, and their sub-dealers, to deliver specialised training to their team of service technicians. Aqua Power Marine is a trusted sales and service provider to Melbourne's boating community, with a reputation for only representing and providing the highest quality products in the marine market.
The customised Kohler training, tailored to Aqua Power Marine's individual requirements, utilised the Kohler DEC3500 and ADCIId controller, as well as power points specifically related to the alternator, engine, PGEN paralleling, and Modbus training.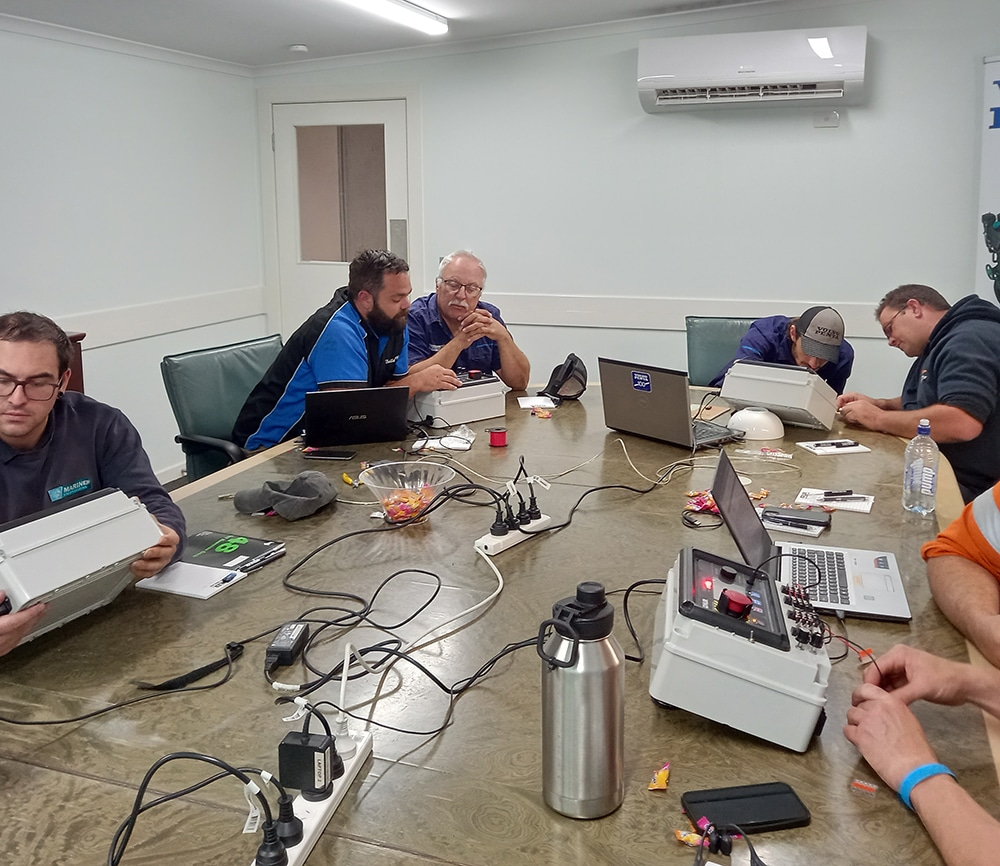 Clarke Energy's training with Aqua Power Marine covered multiple facets of the equipment, including:
General product architecture overview
Programming inputs/outputs via the display and with the Kohler software
Firmware updates and reprogramming controllers
Program uploads, reloads and downloads
Understanding accessories with practical elements
Training on Modbus and the diagnostic software for testing
Using custom-built simulator training boxes for practical training, Ty ensures that technicians get a firsthand experience by being able to assess and perform various functionalities in real-time. This practical method of training, combined with theoretical knowledge, has proven to deliver greater benefits for learning outcomes and functional application in our customers' organisations.
Technical Support Manager, Ty Martin says:
"As I teach trainees about a specific item, they receive the theory component and then get to complete the learning with "hands-on" experience. I find that this method of training helps trainees stay more engaged and motivated, consolidates their learning, and allows them to be able to complete tasks confidently in practical workplace situations."
Aqua Power Marine technicians who completed the training gained additional knowledge to ensure that the Kohler machines are running at optimum efficiency and were provided with greater awareness of the functionality and capabilities of the equipment. Which ultimately results in superior customer support within the region through an improvement in knowledge and greater confidence when servicing the machinery.
Mick McGee, Director of Sales, Aqua Power Marine, says

"The overwhelming feedback from participants who attended was that Ty's training provided some great insights into the diagnostics and capabilities of the Kohler Marine product. The mix of theory and real-life, practical learning was incredibly beneficial, with technicians now feeling more confident when working on the product moving forward. This is the best training that we've received from any of our suppliers in a long time, and we're looking forward to locking in the next training session with Ty."
At Clarke Energy, we have direct access to the latest Kohler training and developments, which we then pass on directly to our channel partners. We firmly believe we can add value at every stage of the product lifecycle, and we are committed to delivering the highest quality products and solutions, and the best levels of after-sales support to our customers.
To find out more about Clarke Energy's customised training programs, contact us today.