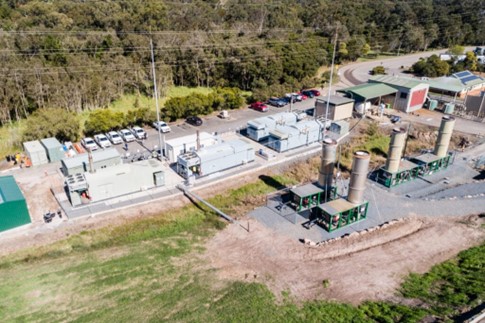 Clarke Energy continue to emerge as a leader in the renewable energy and biofuel sector. Working together with LMS Energy and the Brisbane City Council, Clarke Energy has supplied LMS Energy with a 1.1MW Jenbacher biogas engine which has been installed at the Rochedale landfill site in Brisbane.
The new Jenbacher engine forms part of a total 7MW install that will generate approximately 18,250MWh of renewable energy per annum – enough electricity to power more than 3,300 Brisbane households. The engines are expected to neutralise 14,391 tonnes per year of carbon emissions produced by Queensland, which is equivalent to the yearly emissions from 4,580 cars.
The biogas fuelling the 1.1MW Jenbacher engine is produced by the decomposition of organic landfill. Biogas is created through a natural process and comprises of approximately 50% methane and 50% carbon dioxide. More than three quarters of the biogas produced each year at the Rochedale Landfill site is captured and used to generate renewable electricity.
Clarke Energy and Brisbane Landfill are supporting LMS Energy to capture biogas as it's produced to ensure it can be utilised to create renewable electricity, or flared to destroy the methane. These operations at Brisbane Landfill are preventing more than 400,000 tonnes of carbon dioxide from entering the earth's atmosphere each year. The renewable electricity produced in this process is redirected into the local power grid for use by residents and businesses.
The new 1.1MW engine integrates with an existing fleet of six engines at Brisbane landfill, generating approximately 45,500MWh combined renewable energy per year from biogas. This plant reduces electrical grid emissions by approximately 36,400 tonnes of carbon dioxide equivalents per year.
 Jason Dockerill, Contract and Client Manager with LMS Energy stated,

"This project will provide significant additional environmental benefits and further highlights Clarke Energy and Brisbane City Council's commitment to reducing carbon emissions."
David Sheipouri, Regional Sales Manager (East) at Clarke Energy stated,

"The biogas renewable energy project supports Australia's transition to a circular economy. Clarke Energy and LMS Energy are proud of this project and their commitment towards reducing carbon."
Keep up to date with further Clarke Energy and Kohler projects on our news page.
Clarke Energy, a KOHLER Company, is a multi-award-winning global business specialising in the engineering, installation and maintenance of distributed power generation solutions. Clarke Energy provides distributed power plant solutions with market leading engineering, installation and maintenance support.