– Clarke Energy to Provide Two of GE's Natural Gas-Fueled Jenbacher Gas Engines in a Customized Prefabricated and Modular Enclosure for Sebewaing Light & Water (SL&W)
– Project Helps Mitigate Effects of Increased Variability in MISO's Wholesale Electricity Segment
– SL&W Project's Savings in the Region of $1.4 Million and a Reduction of up to 15,000 Tons of Carbon Dioxide per Year Compared to Status Quo
– Hot Water Recovered from the Engines Will be Available to SL&W's Leading Industrial Customer
SEBEWAING, MICH. — October 2018 — As phased decommissioning of coal plants and additional renewables integration into the grid have led to increased variability in the Midcontinent Independent System Operator (MISO)'s wholesale electricity segment, GE's Distributed Power business (NYSE: GE) and Clarke Energy — GE's authorized Channel Partner of Jenbacher* gas engines in Michigan — today announced that they will provide a turnkey combined heat and power (CHP) plant to municipal electricity utility Sebewaing Light & Water (SL&W). The CHP plant, funded by a public bond, will augment SL&W's existing power plant assets with GE's high-efficiency, natural gas-fueled Jenbacher gas engines, allowing for lower electricity costs for residential, commercial and industrial customers in Sebewaing. Following completion of the project, Clarke Energy will provide a long-term comprehensive service agreement with associated availability guarantees.
"Sebewaing is a unique load, and GE's Distributed Power business and Clarke Energy were able to customize the application to enhance benefits for our utility and our customers. The high efficiency of GE's Jenbacher gas engines fueled by natural gas will allow us to generate electricity at a low cost and reduce our risk of wholesale electricity price volatility," said Melanie McCoy, superintendent, SL&W. "By self-generating our electricity, we estimate savings at more than $1.4 million per year. In addition, the plant adds to our capacity, allowing us to reliably serve more customers when the transmission grid is constrained or suffers an outage."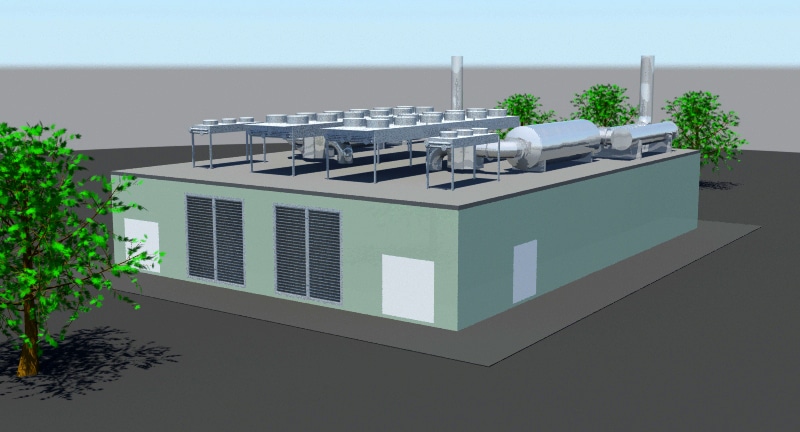 The project includes one each of GE's Jenbacher J624 and J620 gas engines, providing 4.4 megawatts of electricity (MWe) and 3.3 MWe, respectively, with a total output of 7.7 MWe. Clarke Energy will also install GE's Distributed Power's myPlant* Asset Performance Management (APM) offering—an original equipment manufacturer-agnostic, Industrial Internet of Things solution for reciprocating engines and generators that allows customers to improve the availability, reliability, operating performance and maintenance effectiveness of their Jenbacher gas engine fleet.
Clarke Energy will provide a customized prefabricated and modular enclosure solution for the gensets along with turnkey project management, installation, integration and commissioning.
From an environmental sustainability perspective, the high electrical efficiency and total system efficiency when running in CHP mode will displace an estimated 15,000 tons of carbon dioxide (CO2) per year, according to calculations utilizing the U.S. EPA eGRID database that tracks CO2 and other emissions' intensity on the electric grid by region and sub-region. The significant reduction in CO2 is achieved by replacing grid electricity, which is predominately produced from aging coal plants in Michigan, with high-efficiency natural gas combustion in leading reciprocating internal combustion engine technology. Further carbon savings are achieved by operating the equipment in CHP, mode which utilizes waste heat from the gensets to directly offset natural gas burned in a boiler for industrial process steam or hot water. The natural gas-generating assets will also offset several aging diesel-generation assets for SL&W's standby generation needs.
"Clarke Energy is committed to providing a high-quality solution designed to meet SL&W's needs and to support the installation through the entire life of the project. Our turnkey design, combined with GE's proven CHP technology, will help meet the customer's load profiles throughout the year," said Adam Wray-Summerson, sales director—U.S., Clarke Energy. "Using Jenbacher gas engines, this solution delivers substantial environmental and economic savings, adding to SL&W's capabilities. Our prefabricated, modular design concept helps to ensure best manufacture processes are adhered to with full consideration of health and safety. The concept helps to minimize on-site 'hot-works,' which reduces costs and project delivery risks. Coupled with a long-term service agreement provided by our experienced local team, this project will help ensure SL&W customers have reliable stable power for years to come."
Heat recovered from the cooling water circuits, lube oil circuit, intercooler and exhaust gases can provide up to 10.45 million British thermal units per hour in the form of low-temperature hot water at 224 degrees Fahrenheit. The hot water will be available to SL&W's leading industrial customer.
"Helping to address the increased variability of the wholesale electricity segment in Michigan and the Midwest, distributed natural gas-fueled power generation plants—like the one we are building for SL&W—provide flexible solutions to generate electricity at a low cost and with lower emissions. These types of plants also offer total project cycle speed in terms of their ability to go from contract signing to full operation in a year or less," said Leon Jansen van Vuuren, general manager, global sales and commercial operations, GE's Distributed Power business. "Clarke Energy's long-term service agreement backed by GE's parts supply and our myPlant APM system help ensure excellent performance and reliability for the duration of the plant's design life."
GE's Jenbacher gas engines have arrived in the U.S. from the company's production facility in Jenbach, Austria. Clarke Energy's prefabricated enclosure is being manufactured in Wisconsin, where the units will be mechanically and electrically installed prior to shipment to the site in the fourth quarter of 2018. The commissioning will then swiftly follow to ensure the site is operational in the first quarter of 2019.