Clarke Energy recognized the requirements for a 'power module' based around the Jenbacher Type-6 engine. The power module scope which comprises of engine, enclosure, silencer cooling system and other key ancillary components has been optimized for the requirements of the Australian coal gas and remote power markets.
The power module has been designed to operate in hot or humid environments with ambient temperatures above 40 degrees Celsius and can be configured with bolt on upgrades including cogeneration equipment (hot water + steam) and chilled air intakes. Clarke Energy has incorporated the power module into an in-house pre-engineered power station solution dubbed the 'cookie cutter' due to its simple modular configuration. This solution has now been delivered to many clients with power stations in the range of 1 to 45MWe.
The Clarke Energy 'Cookie-Cutter' power station model has been designed from the onset to allow coal gas producers to begin generating power early and hence early monetization of the valuable coal gas resource. The modular design model facilitates the earliest possible generation given that work can start immediately upon award saving critical design time at the front end. The proven model then allows steady augmentation to coincide with the development of the gas reserves and drilling program. This means that coal gas producers can begin generating with as little as 500kWe and then grow output to tens of megawatts as the gas wells become operational.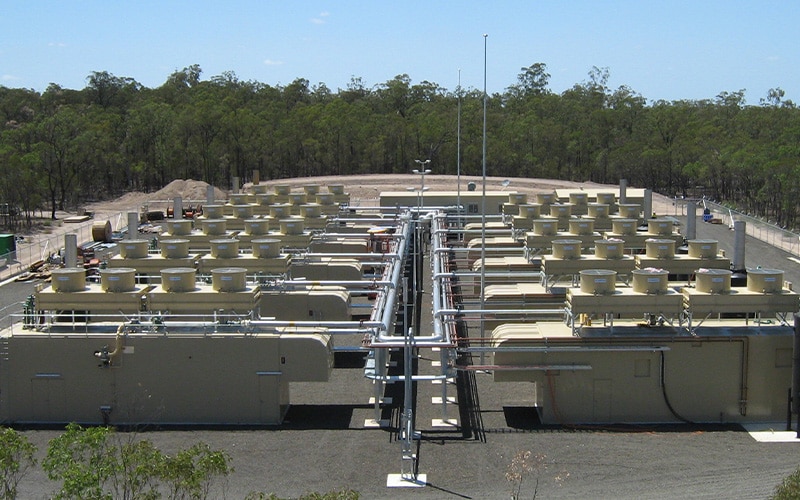 Cogeneration Bolt-On
The Cookie-Cutter can be supplied with all the usual features of a Jenbacher gas engine, with the ability to operate in a cogeneration configuration. Both jacket water and exhaust heat can be recovered and utilized for process heating or alternatively, in a trigeneration configuration for the provision of cooling water with absorption chillers.
To find out more about the Cookie Cutter please contact Clarke Energy's Australian operations.