Clarke Energy France, a leader in engineering, installation, design, and maintenance of decentralised power generation solutions, is showcasing an innovative project aimed at recovering blast furnace gas at an industrial site in Norway. The full turnkey solution, scheduled to commence operations in July 2024, will empower the ferromanganese plant to enhance its energy efficiency and reduce its environmental impact.
Specialising in gas-fired power stations and combined heat and power technology, Clarke Energy serves as a turnkey solutions provider, offering a complete package to industrial companies seeking to generate their own energy and minimise their carbon footprint.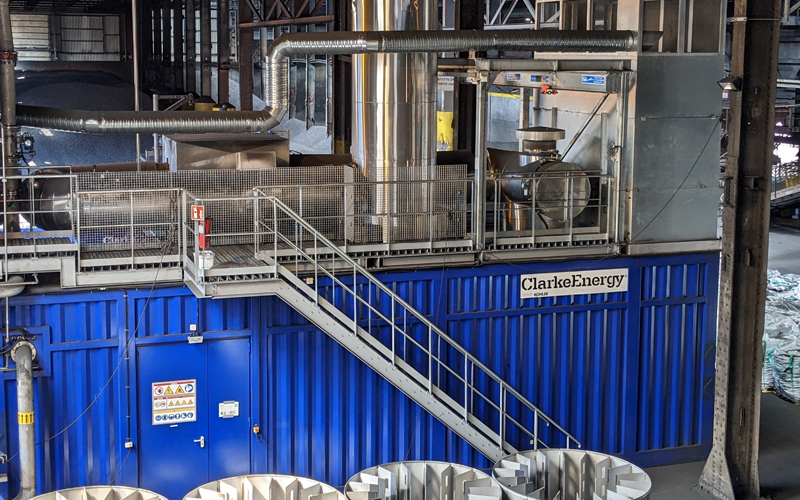 Improving energy efficiency
Situated in Sauda, southwestern Norway, the ferromanganese production plant of Eramet, a French mining and metallurgy group, ha been compelled to flare blast furnace gas. Thanks to Clarke Energy's solution, will transform this resource into electrical and thermal energy.
Following a successful pilot phase in 2021/22, Eramet's Norwegian facility has committed to a €19 million investment in an energy recovery unit proposed by Clarke Energy. Equipped with latest-generation INNIO Jenbacher gas engines, this unit will utilise the recovered lean gases to augment the plant's energy efficiency by over 30%. Clarke Energy is delivering a comprehensive package, encompassing raw gas treatment, electricity generation, connection to the medium-voltage grid, and the heat recovery process.
The specific composition of the recovered gas, deriving its energy from the contained hydrogen,- demonstrates Clarke Energy's expertise in the conditioning and recovery of specialty gases.
"We are proud to be involved in this fantastic project, which is in line with Clarke Energy's sustainable strategy. It's another contribution from our company to the energy transition and the global net-zero initiative,"
Didier Lartigue, Managing Director of Clarke Energy France and French-speaking Africa.
Technical specifications
Low LHV gas

The gas recovered and recycled is composed of CO and H2 (carbon monoxide and hydrogen), converted into CO2 and H2O (carbon dioxide and water), and has a low Lower Heating Value of (quantity of heat released by the combustion of a fuel unit) of 2,3 kWh/Nm³ average.

Detailed gas composition :

CO : 50 % vol

CO2 : 35 vol%

H2 : 7 vol%

Raw gas will be conditioned with coolers, dryers and compressors to decrease dew point and increase pressure at engine inlet.

4 gas treatment lines will be installed in parallel to process the total gas flow of 18 900 Nm3/h.

Each treatment line is independent to step up or down gas flow.

 

INNIO Jenbacher engines

6 x JMS 620-F54 type engines will be used in addition to the pilot (JMS 620-F55).

INNIO specify 2 different electrical output in the technical specification:

Electrical output guaranteed: 1507kW el. @ 10 bar BMEP

Electrical output best effort: 1696kW él. @ 11,22 bar BMEP

Both are guaranteed fo 500 mg/Nm³

(5 % O2), NO emissions but are expected to be lower according to pilot operation feedback If required, and additional SCR catalyst decrease NOx emissions down to 300mg/ Nm³ will be installed.
An energy production solution
The project has the support of the Norwegian authorities and aims to develop and deploy environmentally friendly technologies, by recovering the gases emitted by the furnaces and reducing electricity consumption.
The project, worth a total of €32 million, also includes the installation of a complete heat recovery process to supply thermal energy to the local district heating system in the municipality of Sauda (population 5,000), and to improve the plant's overall efficiency by enhancing the quality of raw materials. In addition, engine exhaust gases will be fed into a carbon capture and storage (CCUS) plant, helping to reduce greenhouse gas emissions and produce a low-carbon alloy.
Commissioning is scheduled for July 2024, followed by an optimization phase to improve plant performance. Clarke Energy is supporting Eramet throughout the process, providing in-depth training to Eramet's operating teams and carrying out key maintenance operations.
This collaboration between Eramet and Clarke Energy demonstrates once again their shared commitment to sustainable development and technological innovation, contributing to a cleaner, more efficient energy future.
Clarke Energy France in figures
2001 > Creation of the French subsidiary
73M€ > Sales 2022
230 > Number of employees (France + Africa)
7 > Countries covered.
19M€ > Amount of the Eramet Norway project