Clarke Energy provide power solutions across various market segments, and the marine industry is beginning to see the impact of our leadership position in power generation through the unveiling of an new partnership with Riviera.
The partnership announcement coincides with one of the marine industry's premier events – the Sanctuary Cove International Boat Show 2022 where both Riviera and Clarke Energy will have a strong presence.
Riviera is the largest luxury motor yacht boat builder in the Southern Hemisphere and for the past 42 years has worked with an alternative power generation supplier. However, the COVID-19 pandemic has presented multiple supply and demand complexities, which in turn have created new opportunities.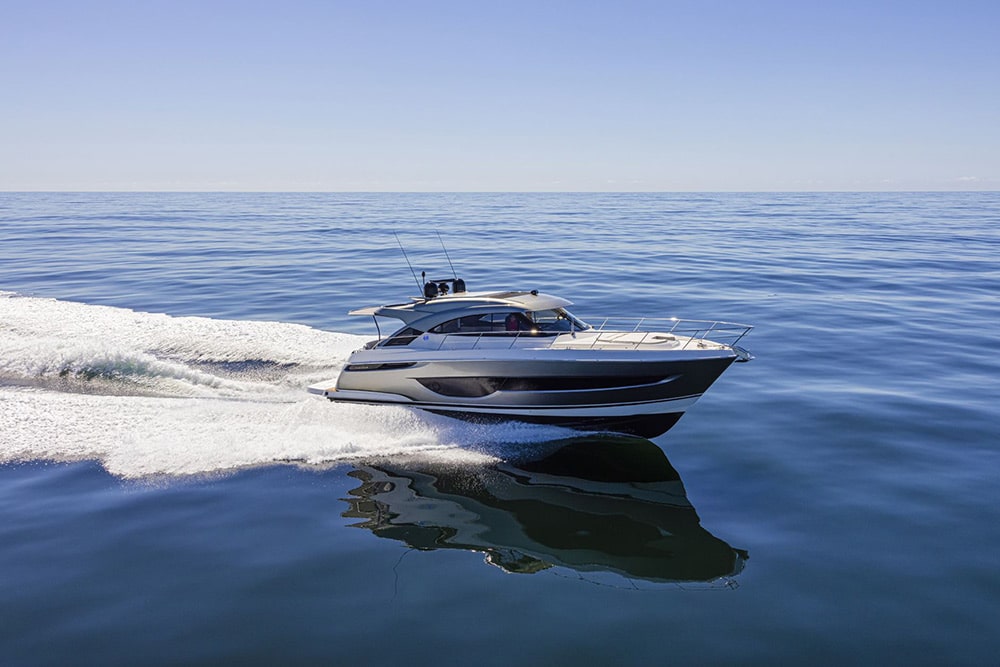 Clarke Energy and Kohler have now become a supplier of marine power generation to Riviera, delivering services, and assisting with Riviera's production capacity during this difficult period.
Clarke Energy has approached the partnership with a can-do attitude and engaged closely with Riviera to balance design and technology updates, scope changes, leading industry standards and demanding build schedules with providing the best outcome to the yacht owner.
Josh Hughes from Riviera says:

"Riviera is proud to partner with an industry leading company like Clarke Energy as the sole power supplier for our new 4600 Sport Yacht Platinum Edition. Clarke Energy and Kohler will provide this new yacht with reliable and premium power generation units with accessible ongoing support."
Clarke Energy is exclusively providing the Kohler 13.5EFKOZD (50hz) and 16EKOZD (60hz) to Riviera for their new Sport Yacht, the 4600 Platinum Edition. Some of the features these engines share include:
4 cycle naturally aspirated
3 cylinders
Direct injection
17:1 compression ratio
Low oil pressure shutdown
High engine temperature shutdown
Disposable oil and fuel filters
Certified by the Environmental Protection Agency (EPA) to conform to Tier III marine auxiliary
Riviera plans to deliver 24 of these vessels a year working alongside Clarke Energy's well established Kohler trained channel partner network, which has locations across the South Pacific Ocean, and almost 1000 sales and service locations globally. Channel partners are perfectly positioned and have capacity to provide spare parts, extensive training, service and support from Kohler experts to Riviera.
 Chris Leane, Kohler Channel Partner Manager says:

"It is an exciting step for Clarke Energy to announce a new partnership with Australia's largest motor yacht builder and a market leader. This opportunity is especially exciting for Clarke Energy and Kohler: We are able to provide Riviera with a superior product, availability, and ongoing pre- and post-sale support."
 Visit https://kohlerpower.com/en/marine/why-kohler for more information on Kohler Marine power generation solutions.
Visit https://www.rivieraaustralia.com/models/4600-sport-yacht-platinum-edition/ for more information about the Riviera 4600 Sport Yacht Platinum Edition.
Clarke Energy will be at the Sanctuary Cove International Boat Show, in Queensland, from 19 – 22 May 2022. Attracting over 50,000 visitors in 2021, the Show continues to live up to its reputation as the Southern Hemisphere's premier marine event. With over 300 exhibitors and 600 boats on display, guests will be treated to best-in-class superyachts, fishing boats, trailers, watercraft, marine tech and much more.
Keep up to date with further Clarke Energy and Kohler projects on our news page.
Clarke Energy, a KOHLER Company, is a multi-award-winning global business specialising in the engineering, installation and maintenance of distributed power generation solutions. Clarke Energy provides distributed power plant solutions with market leading engineering, installation and maintenance support.