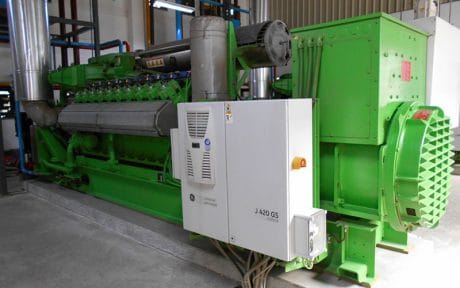 Badsha Textiles Ltd. one of the largest textiles factory in Bangladesh. Md. Badsha Miah is the Managing Director of Badsha Textiles Ltd., who is one of the CIP (Commercially Important Person) of the Bangladesh Government. Approximately 20,000+ employees work at this factory.
Badsha Textiles Ltd. has been successfully operating GE's Jenbacher gas engines since 2011. In 2011 they have purchased 2 of GE's JGS 312 Jenbacher engines, each having capacity of 637kW of electrical power. In 2012 they have installed a further 2 JGS 320 and 1 JMS 420 engines, with a total output was 3.39MW of electrical power. In 2014, they expanded once more with another 4 units of JMS 420, each having capacity of 1,415kW of electrical power. In 2015, they have installed further 8 units of JMS 420, 2 units of JGS 320 and 1 unit of JGS 312 GE Jenbacher gas engines at their textiles factory and their sister concern Pioneer Knitwear (BD) Ltd. to meet up their energy demand to 24.26MW of electrical power. Clarke Energy Bangladesh Ltd. provided engineering design drawing and installation supervision support to the site engineering staffs for successful commissioning.
In addition to the electrical output, the thermal output of the engines are used to boilers and absorption chillers to produce steam and chilled air – making this a trigeneration application.
Following the successful commissioning and operation of these gas generating sets, Badsha Textiles have subsequently ordered 12 units of JMS 420 B311 and 1 unit of JGS 312 to provide quality power for their sister company, Pioneer Denim Limited, located of Sylhet region, Bangladesh.