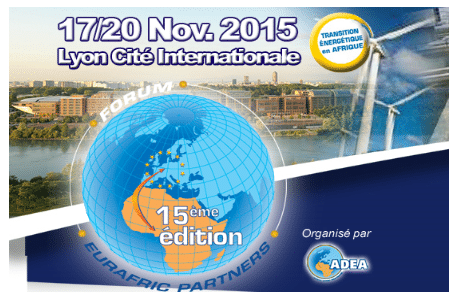 ADEA has organised the 15th edition of EURAFRIC Forum- Water and Energy in Africa​​ from 17th to 20th November 2015 at the Lyon Convention Centre.
The objective of the Forum is firstly to promote the partnership between Europe and Africa in the areas of water, energy and renewable energy, and secondly to improve the competitiveness of businesses African and reduce poverty in Africa.
The 2015 edition will gather in Lyon and there will be official delegations from more than 10 African countries.
This 15th edition will focus on identified projects in Africa in the areas of: energy efficiency in buildings, energy production in isolated/ network sites (solar, wind, biomass), etc.
Please contact us if you would like to attend.