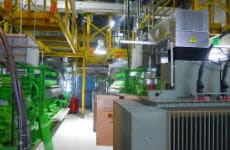 In 2009 Dalkia France informed Clarke Energy that it was going to replace their cogeneration plant at the Bron Parilly site, of which they are the operator. This was the first time Clarke Energy renovated a cogeneration plant on site.
Three GE's Jenbacher JMS616 GS-NL gas fuelled power plants were renovated at site for this turnkey installation. The electrical output of the engines has increased from 1,940kWe before to 1,995kWe after the renovation. The three engines are working on natural gas and are generating a total of 5.83MWe, which is the equivalent of powering over 15,000 typical households.
The refurbishment of the CHP configuration on site has led to a renewed power purchase contract with the French electricity utility company Electricity Of France (Électricité de France, EDF) for a duration of 12 years. The contract includes technical and economic conditions as well as optimal maintenance regulations.
This installation complies with the current standards on carbon emissions and thus has an improved environmental performance.
Looking at the rationalised use of energy accompanied by the economic advantages, the decision was easily made.  The combined production of heat and power offers an improved energy efficiency, which leads to a global
reduction of energy consumption.