Clarke Energy's Channel Partner, East Coast Generators, have provided critical support for the Australian Open, utilising a Kohler KD1500 generator as a back-up power source for their national and international television broadcast.
Clarke Energy and East Coast Generators have been working together for over 4 years, with Clarke Energy providing a large fleet of high-quality Kohler diesel gensets for their commercial sales and growing rental range through their subsidiary company, Generator Rentals Australia.
East Coast Generators have been the preferred generator supplier for the Australian Open as a backup to their broadcast for over 10 years. In 2022 the Australian Open was broadcast to over 12.5 million people across the globe[1], demonstrating a high quality, dependable generator would be required for 2023 to ensure the coverage continues. Clarke Energy's Kohler KD1500 generator was selected as a backup for the 2023 broadcast, the first time a Kohler unit has been used at this event.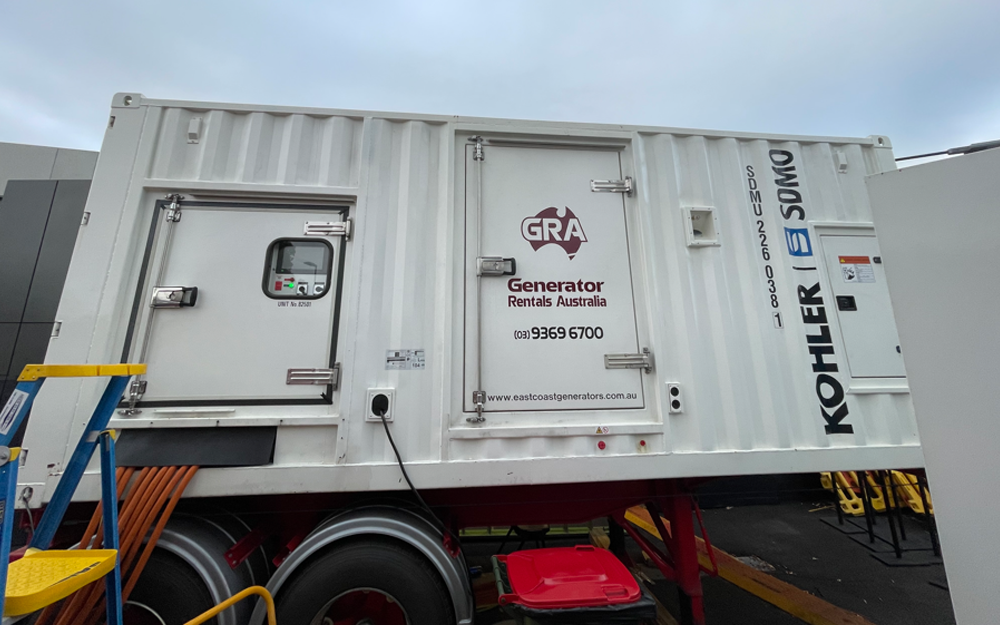 Some of the features of the Kohler KD1500 generator include:
Low fuel consumption thanks to a high technology common rail injection engine
A smaller footprint thanks to a high-power density
Long maintenance intervals
Able to provide 1200 kilowatts of power
16-cylinder (V16) engine, quad turbos
Industry leading motor starting capability
Built with a class H insulation and IP23
Low temperature starting capability
Compact and complete cooling solution
"We chose the Kohler KD1500 due to its low noise emissions and low exhaust emissions. We had to be conscious with our choice of generator as this is a public event, in a built-up area with lots of people around and the Kohler KD1500 ticked the boxes"
Jarrod Maher, General Manager, East Coast Generators
The Kohler KD Series generators are built with an eye on the future, designed to last decades. Ranging from 800kVA to 4500kVA (50hz), these industrial generators are perfectly suited for a wide range of applications including mining, commercial buildings, data centres, power utilities, hospitality, events and the telecommunications industries, providing better fuel economy and a smaller footprint. Clarke Energy can provide generators in a wide range of power outputs, 9kVA to 4500kVA and can be customised for specific needs and power generation requirements.
Clarke Energy, a KOHLER Company, is a multi-award-winning global business specialising in the engineering, installation, and maintenance of distributed power generation solutions. Clarke Energy provides distributed power plant solutions with market leading engineering, installation, and maintenance support.
Keep up to date with further Clarke Energy projects sign up to our newsletter here.
[1] https://www.sportingnews.com/au/tennis/news/australian-open-2023-ratings-/uzd7ifaun3kvvpsuyiqg2vau