Clarke Energy provide power solutions across various market segments and have recently cemented its entry into the Australian marine industry by unveiling an ongoing partnership with Maritimo.
Maritimo is the second largest boat builder in the Southern Hemisphere. For the past 20+ years Maritimo has engaged a competing brand to supply marine power generation but has recently transitioned to partner with Clarke Energy.
The COVID-19 pandemic has presented multiple supply and demand complexities. Clarke Energy and Kohler have emerged as a consistent and reliable power generation provider to the marine industry, managing these complexities to ensure an undisrupted supply chain.
Maritimo has worked closely with Clarke Energy to ensure leading industry standards are met and scope changes, design updates and product quality achieved the highest outcome for the end customer. Clarke Energy has been able to reach deadlines by developing new processes to provide when competitors could not.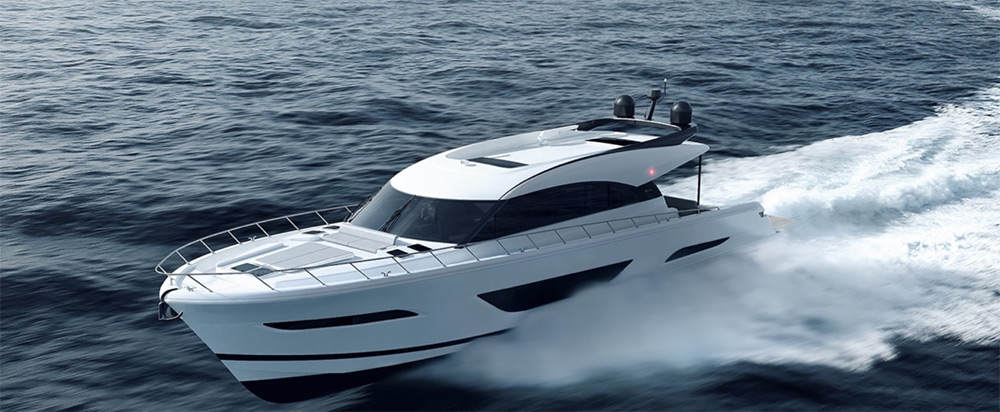 Phill Candler, General Manager at Maritimo says:
"Partnering with Clarke Energy has ensured continuous product supply for Maritimo, this has become particularly important over the past few years with COVID related supply challenges. Clarke Energy supplies reliable and high-quality Kohler marine generators, with service locations, spare parts inventory and trained experts to back it up. Maritimo is excited for the future of marine power generation with Kohler and Clarke Energy."
Clarke Energy is supplying numerous Kohler 18EFKOZD and Kohler 20.5EFKOZD gensets for Maritimo's existing models, M55, M60, S55 and S60. Clarke Energy will also provide the Kohler 28EFKOZD (50hz) and 32EKOZD (60hz) to Maritimo for their brand new models, the M75 Flybridge and S75 Sedan. Some of the features these engines share include:
4 cycle turbocharged
4 cylinders
Direct injection
17:1 compression ratio
Diesel fuelled
Closed cooling system
Heat exchanger
Electric fuel lift pump
Multi-voltage adjustability
Voltage regulation of ±0%
Radio suppression
Low oil pressure shutdown
High engine temperature shutdown
Disposable oil and fuel filters
Low seawater pressure shutdown
Certified by the Environmental Protection Agency (EPA) to conform to Tier III marine auxiliary
Clarke Energy have a well-established and trained Kohler channel partner network providing spare parts and service support across the South Pacific, with almost 1000 service locations globally. Maritimo has placed a minimum order of 30 gensets from Clarke Energy to supply their vessels for the upcoming 20 months.
Chris Leane, Kohler Channel Partner Manager says:
"Clarke Energy is excited about partnering with another leading marine company, Maritimo and providing Maritimo with Kohler's superior marine range. 2022 has cemented Clarke Energy's move into the marine industry with power generation solutions. This is a growing market, which we are excited to provide our extensive range of Kohler products and servicing support to."
Clarke Energy, Kohler and Maritimo will be present at the Sydney Boat Show from 28 July to 1 August.

Visit https://kohlerpower.com/en/marine/why-kohler for more information on Kohler Marine power generation solutions.
Visit https://www.maritimo.com.au/models/ to learn more about Maritimo vessels.
Keep up to date with further Clarke Energy and Kohler projects on our news page.
 Clarke Energy, a KOHLER Company, is a multi-award-winning global business specialising in the engineering, installation and maintenance of distributed power generation solutions. Clarke Energy provides distributed power plant solutions with market leading engineering, installation and maintenance support.