The single Jenbacher JGS 320 gas engine has completed 100,000 hours of operation, generating 55GWh of renewable power since commissioning in 2006.
Kodungaiyur plant has the capacity to treat 110 million litres of sewage per day.
Chennai Metropolitan Water Supply and Sewerage Board (CMWSSB) is responsible for the water supply and sewage treatment of the city of Chennai and surrounding areas. VA Tech WABAG operate the Kodungaiyur Sewage Treatment Plant and contracted Clarke Energy in India to design, supply, install, erect and commission 1.064MW gas based power plant.
Having a capacity to treat 110 million litres of sewage per day, it was built with the objective of treating municipal waste water so that the quality of discharged water adheres to the statutory discharge norms. The treatment process is based on activated sludge process with anaerobic sludge digestion and sewage gas (containing 55 to 65% methane and typically a low heating value of 4450 kcal/m3 to 5340 kcal/m3 ) produced being utilised in Jenbacher reciprocating gas engine to generate green power.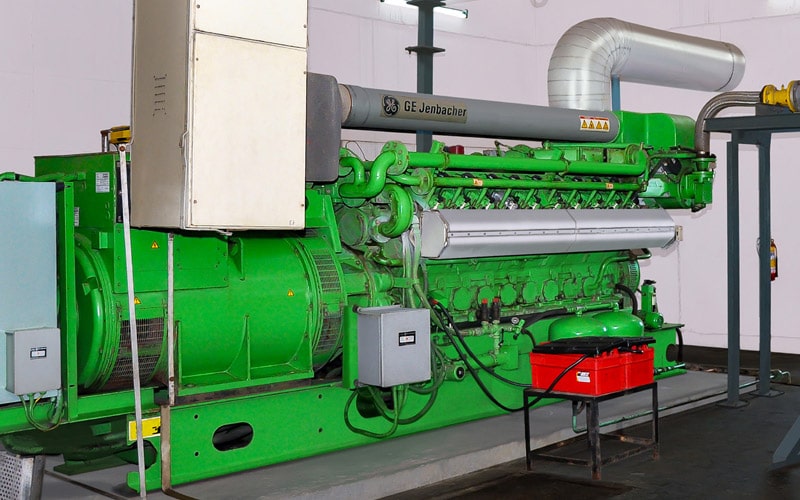 Jenbacher gas engines provide the solution to the rising energy costs that wastewater treatment plant (WWTP) owners have to pay to meet their discharge permit requirements. The installed gas engine efficiently and reliably converts sewage gas into electricity at the Kodungaiyur Plant, the use anaerobic digestion for bio solids treatment. The process covers up to 98% of plant's electricity needs, making it self-sufficient energy-wise thus eliminating the dependence on Grid Power. Since commissioning, Clarke Energy in India has been providing 24×7 operation and maintenance services for the said installation helping VA Tech WABAG realise maximum reliability of the power generation asset supplied.
"Clarke Energy's rich experience and good service support has helped us achieve the prestigious milestone of generating 55GWh of renewable energy from the sewage treatment plant. VA Tech WABAG has helped CMWSSB contribute towards the country's ratification at COP 21 Paris Climate Convention to satisfy 40% of its energy requirements from non-fossil fuel sources to reduce carbon emission"
Mr. Rajiv Mittal – MD & Group CEO, VA Tech Wabag Limited
Key information

Client: 

VA Tech Wabag

Capacity: 

1.064MWe

Location:

Kodungaiyur, Chennai, State of Tamilnadu, India

Commissioning:

October 2006

Engine Manufacturer:

GE (Now INNIO)

Installation by:

Clarke Energy

Engine Type:

1 x JGS 320 GS BL

Primary Fuel:

Sewage Gas

Operation Profile:

Grid parallel and island mode operation