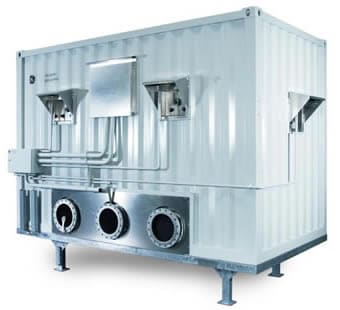 CL.AIR® System
The CL.AIR® Exhaust After-Treatment System for Jenbacher gas engines is a thermal regenerative post-combustion system for engine exhaust gases. Since no catalytic reactions take place during the thermal treatment of the exhaust, as it is insensitive to impurities in the fuel gas, the CL.AIR® system is particularly suitable for use with critical gases such as biogas, for which catalytic converters either cannot be used or are used only to a limited extent. In addition, CL.AIR® decomposes the unburned methane in the exhaust gas and provides extra exhaust heat which can add to the thermal efficiency of a cogeneration plant.
The CL.AIR Exhaust After-Treatment System is applicable to Type 2, 3, and 4 Jenbacher gas engines.
CL.AIR Features:
Once exhaust gas is heated to approximately 1,472 °F (800°C), uncombusted hydrocarbons, formaldehyde, and CO oxidise to form water vapour and CO2
Catalytic reactions are eliminated during the thermal treatment of the exhaust
Only minimal power supply is required
CL.AIR Benefits for Cogeneration Plants:
Resistant to contaminants in the fuel gas
Minimal maintenance costs
Suitable for operation with critical gases
Resistant to deposits
Constant emission values throughout the entire lifecycle
No additional fuel gas cleaning required
Additional heat generation (about 20-30°C increase in exhaust temperature)
The CL.AIR®Exhaust After-Treatment System is based on a regenerative heat exchange, and consists of a reaction chamber holding two scrubbers and a switching unit.
At approximately 986 °F (530 °C), exhaust gas flows from the engine via the switching unit into the first scrubber, where it is heated to 1,472 °F (800 °C)
In the reaction chamber, exhaust gas reacts with the oxygen it contains, oxidising carbon monoxide and HC to produce carbon dioxide and water
Exhaust gas emits heat again as it passes through the second scrubber, at a temperature of around 1,022 to 1,058°F (550 to 570°C) reaches the switching unit
Switching unit directs heat to the smokestack or a downstream waste heat boiler