ELMSFORD, NY – Today, Liberty Coca-Cola Beverages (Liberty) joined with state and local elected officials, community stakeholders and businesses to break ground on the quadgeneration production plant at the local bottler's Elmsford facility. The plant will be the first of its kind in the country to generate its own electricity, heat, cooling and recover carbon dioxide (CO2) for beverage use.
Generating energy using combined heat and power technology will deliver significant carbon savings versus grid sourced electricity. Additionally, recovering CO2 further improves the environmental performance of the system by reducing the need to source it from the market. Once cleaned, the beverage-grade CO2 will be used to carbonate beverages, eliminating hundreds of trucks annually that currently deliver it to the facility.
"Today, we mark another major milestone for Liberty's efforts to create a more sustainable future," said Paul Mulligan, co-owner of Liberty Coca-Cola Beverages. "The Quadgeneration Plant will be a game changer for the entire manufacturing and bottling industry."
New York State Senators Andrea Stewart-Cousins (35th District), Pete Harckham (40th District) and Robert Rodriquez (Secretary of State) joined with Liberty to mark the celebratory occasion.
"It is critical we take actionable steps to transition to more sustainable practices in our lives," said Sen. Stewart-Cousins. "I commend Liberty Coca-Cola for its efforts to enhance its sustainability."
"This groundbreaking of Liberty Coca-Cola's Quadgeneration Plant is a momentous occasion. As we work toward meeting the ambitious goals of New York's Climate Leadership and Community Protection Act, we know this must be an all-together effort with public and private partnerships, innovative new technologies and real leadership—all of which will be found here," said Sen. Harckham. "I congratulate the leadership of Liberty Coca-Cola and Clarke Energy USA for creating this new facility. The future of carbon dioxide recovery and reducing the overall carbon footprint in New York begins today."
"Thank you to Liberty Coca-Cola for setting this important and positive example of committing to sustainable practices in the State of New York through the quadgeneration production plant," said Robert Rodriguez, Secretary of State.
The quadgeneration plant will be operational by the end of 2024. Liberty partnered with Clarke Energy USA, Inc. a KOHLER Company, to develop the plant. Clarke Energy created the technology and has installed it at facilities in other countries, including several in Europe. The company has been working closely with Liberty to evaluate the facility's manufacturing systems and processes to create an energy solution that will help optimize the site's environmental performance.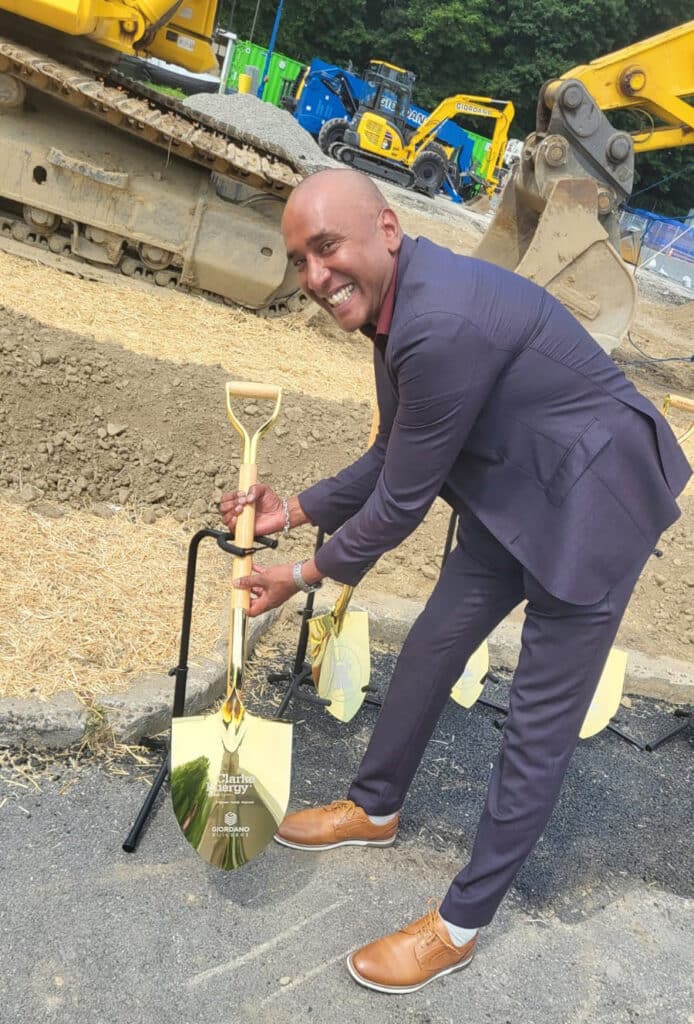 In April, The Town of Greenburgh approved the necessary applications to allow the project to move forward. Additionally, the Westchester County Planning Board indicated in its Feb. 23, 2023, referral letter that it commended Liberty for taking these steps and the project will implement sustainable energy practices that will also help reduce truck traffic along the Route 9A corridor.
"We are proud to be the home of this innovative technology," said Paul Feiner, Supervisor for the Town of Greenburgh. "We have made it a priority to establish sustainable solutions to make our community and its businesses cleaner and greener. Liberty is helping us lead the way with our efforts."
"Liberty is setting a new standard for achieving sustainability goals," said Julie Tighe, President of the New York League of Conservation Voters. "We appreciate the investments they are making to improve our environment and protect public health. We look forward to their ongoing efforts and achievements with the quadgeneration plant."
Liberty is leading the beverage industry when it comes to implementing sustainability efforts. Along with maintaining The Coca-Cola Company's commitment to creating a World Without Waste, Liberty has made significant investments in technology to support its sustainability initiatives across its entire distribution footprint, including:
KeelClip™ paperboard packaging – the first bottler in the United States to replace the plastic ring holders with fiber-based consumer packaging – removing 75,000 pounds of plastic per year from the supply chain.
Bottles Made from 100% recycled material – the first local Coca-Cola bottler to produce bottles made entirely of food-grade recycled plastic that can be reprocessed back into the system several times, ensuring a circular economy.
Sustainable compacter – the Xcycler significantly reduces Liberty's carbon footprint and processes large volumes of full plastic and aluminum liquid containers for recycling.
Lower Emissions – 250 new lower-emission trucks entered Liberty's fleet in 2022.
Green Building – rooftop solar panels rooftop solar panels have been installed at Liberty's South Brunswick facility.
"Not only do we serve our customers with the beverages that you all know and love, but we do it in a way that has made us an industry leader – especially when it comes to the environment and sustainability," said Mulligan.