Liberty Coca-Cola Beverages select Clarke Energy to deliver a turn-key quadgeneration plant generating electricity, heat, cooling and recovering carbon dioxide (CO2).
Beverage-grade quality CO2 upgrading systems will provide Liberty with an in-house supply of carbonation for beverage production.
New York, April 19, 2023: Clarke Energy USA, Inc., a KOHLER Company, today announced they have signed on in agreement with Liberty Coca-Cola Beverages LLC (Liberty) to deliver a "quadgeneration" system in New York. Liberty is the largest family-owned authorized producer and distributor of Coca-Cola beverages in the northeast United States.
Quadgeneration is the process of generating electricity, heat, and cooling at high efficiency and in parallel recovering carbon dioxide (CO2) from the system then polishing it to beverage grade standard CO2. Generating energy using combined heat and power technology delivers significant carbon savings versus grid sourced electricity. The recovery of CO2 further improves the environmental performance of the system by reducing the need to source CO2 from the market. The electricity, heat, and cooling will be generated locally to the bottling plant, helping to eliminate transmission and distribution losses.
Liberty has selected Clarke Energy to design and install the turnkey solution that will bring carbon dioxide generation and recovery on-site. Previously, Liberty would purchase CO2 and import it to site to aide in the carbonation process during the production of beverages. With the new installation of two Jenbacher gas-powered reciprocating engines, the company will now be able to recover CO2 directly from the engine exhaust systems. The CO2 recovery process involves exhaust gas upgrading systems to bring the final product to International Society of Beverage Technologists (ISBT) and Coca-Cola internal CO2 standards. In addition to providing almost 1,700kW of electrical power to the facility, the engines will also provide thermal energy and cooling for internal processes.
Liberty's emission reduction strategy was a key driver in the company's decision to develop a project that incorporates a highly efficient quadgeneration plant. Clarke Energy worked closely with Liberty to evaluate the facility's manufacturing systems and processes to create an energy solution that will help to optimize the site's environmental performance.
Paul Mulligan, co-owner of Liberty Coca-Cola Beverages commented
"As a beverage manufacturer driven by ensuring environmental responsibility, we are proud to partner with Clarke Energy to deliver an advanced energy system at our Elmsford, NY facility. Through Clarke Energy's technology, we will be able to generate our own beverage-grade quality CO2 for our products while simultaneously powering our bottling plant."

Jamie Clarke, Chief Executive Officer of Clarke Energy said
"We are pleased to be working with Liberty Coca-Cola to deliver an advanced quadgeneration system in New York. This complex technology can substantially reduce manufacturer's carbon emissions through high efficiency local energy production. With the benefits of the recent Inflation Reduction Act and increased price of CO2 globally, this provides many opportunities for carbon capture technologies in the United States."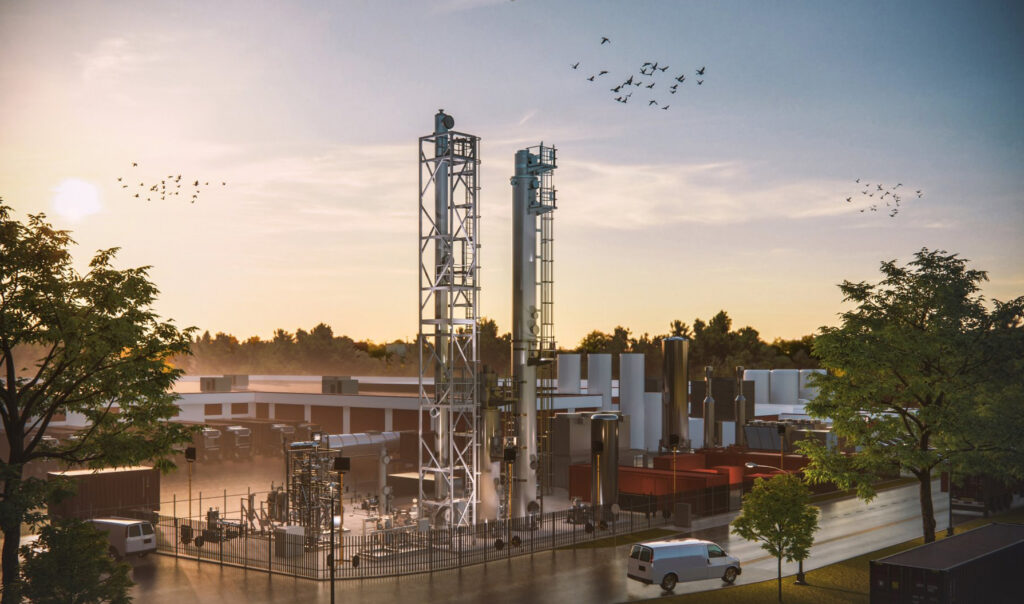 About Liberty Coca-Cola Beverages, www.libertycoke.com
Liberty Coca-Cola Beverages LLC is a privately-owned bottler that operates production facilities in Philadelphia, PA, Moorestown, N.J., and Elmsford, N.Y. and sales and distribution centers in Philadelphia, PA, Marmora and South Brunswick, NJ; the Bronx, Maspeth, Elmsford, New Windsor, and Smithtown, NY Backed by nearly 3,200 highly-trained associates and a creative leadership team, Liberty serves thousands of restaurants, supermarkets, and retailers spanning more than 16,000 square miles across three states, New York, New Jersey and Pennsylvania. For more information, visit www.LibertyCoke.com, and follow us on Twitter, Instagram, Facebook and LinkedIn.
Liberty Coca Cola are "your strategic partner for total beverage solutions".
About Clarke Energy, www.clarke-energy.com
Clarke Energy, a KOHLER Company, is a leader in the engineering, design, installation, and long-term maintenance of distributed energy solutions. Clarke Energy can delivery complex installations and microgrids incorporating gas engine CHP units, battery energy storage systems, biogas upgrading systems and solar photovoltaic units. Clarke Energy can supply solutions including a range of low carbon or decarbonized fuels including biogas, renewable natural gas (RNG) and hydrogen.
Clarke Energy operates in 28 countries. Clarke Energy employs over 1,300 staff and has over 8GW of power generation, 1.4GW of which is from biogas, a renewable fuel.